Sun expands its AMD quad-core server portfolio

Sun Microsystems today announced the launch of several server products based on AMD's quad-core Opteron CPUs, the product of what Sun is calling today an extensive collaboration between the two manufacturers.
The three main products in today's server launch are very similar to the current Sun offerings based on Intel CPUs. "Same chassis and form factor," except with AMD and NVidia technology instead of Intel hardware, a Sun spokesperson told BetaNews.
The Sun Fire X4140 (starting at $2,545) can support one or two dual-core or quad-core AMD Opteron processors in a 1U form factor with 16 DDR2 DIMM slots and eight disk drives. Up the product chain, the X4240 (starting at $3,145) adds a 64-bit processor standard, and with two rack units adds space for a total of 16 drives. Next, the X4440 ($5,995) adds to that buildout a second bank of 16 DDR2s, and is the only four-way Opteron server on the market today, Sun claims, with a 2U chassis.
The Sun Fire X2200 M2 ($2,395), running dual-core or quad-core processors, can run up to 64 GB of memory, making it an ideal server for "high-scale Web application architectures, and for HPC, financial service, or design clusters running simulations and modeling with large data sets," quoting Sun's promotional literature.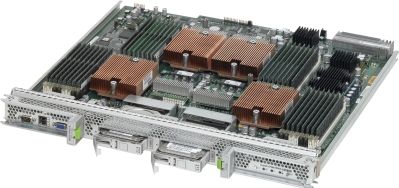 Sun's new four-way, quad-core, Opteron-based Sun Blade 8440 server
The Sun Blade X8440 server ($14,126) is a four-socket server designed and optimized for virtualization, with 32 DIMM slots total -- eight DIMM slots for each populated CPU socket.
The Sun Fire X4140 ($2,545), Sun Fire X4240 ($3,145), and Sun Fire X4440 ($5,995) will ship with the ability to run Solaris 10, Linux, Microsoft Windows, and VMWare, plus an additional six to eight other operating systems including Red Hat Enterprise Linux (RHEL).
Each new server product will be available in Sun's "Try and Buy" program, which allows customers to test the hardware for up to 60 days before purchasing anything. Companies interested in purchasing their tested equipment receive a discount between 25 and 45 percent.
Up to now, server manufacturers previously purchased AMD processors for their products because of a lower, more competitive price, but that price edge has almost vanished.
Today's product launch coincides with AMD's announcement of its Opteron HE (High Efficiency) quad-core processors that use lower power in the company's effort to help its customers go green.
All of these new models are available immediately. An upgraded eight-way Sun Fire X4600 M2 -- an update to an Opteron-based model released last July -- will reportedly ship before the end of Q2.
Sun's new servers are comparable to several servers from competing companies. For example, the Hewlett-Packard ProLiant BL685c supports up to four AMD Opteron processors and has 16 DDR2 memory slots capable of handling up to 128 GB of memory. But the HP server costs less but has half the number of available memory slots as the competing Sun Blade X8440.