Early pictures reveal Acer's next sub-notebook

If sub-notebooks weren't so small, it would be getting very crowded in here. The second addition to the ultra-portable PC category in as many days comes from Acer and its "Aspire One."
Acer's low-cost sub-notebook lacks firm specifications thus far, but the screen looks to be 8.9" with 1024 x 768 resolution. Further information is expected to be revealed at the Computex trade show in Taipei next week. UMPC Portal suspects it is an Atom/Diamondville device like the 1.6 Ghz MSI Wind, and Digitimes expects it to carry a price tag under €200.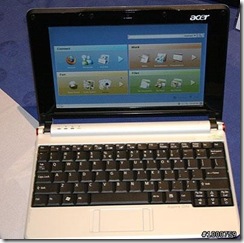 One thing is certain: Most US consumers' favorite brands now have a sub-notebook option. Asus, Dell, HP, Fujistu, Sony, and Apple now all offer lighter-duty and lighter-weight notebooks at different price points.