Disney to stream full-length films this summer

Disney Entertainment has begun streaming full-length movies on its Web site immediately following their airing on ABC television this summer
ABC is a part of Disney's entertainment and news television properties, and will air a different Disney film every Saturday night during the summer, on "The Wonderful World of Disney." That's nice for slumber parties and kids who get to stay up late, but as some parents have noted, even 11:00 pm Eastern time is past many young viewers' bedtimes.
So immediately after airing, each movie will be made available in its entirety on Disney's site.
Each film is streamed, not downloaded, which means it's advertisement-laced and limited in size within the browser. But surprisingly, it looks high quality enough and streams fast enough to be quite watchable. Disney's site also offers movie-related games and music which automatically pause the movie in case the viewer needs a distraction from sitting down for two hours or more. I was treated to a floating Cocoa Pebbles ad infringing on the corner of my viewer, which did an adequate job of distracting me from the movie.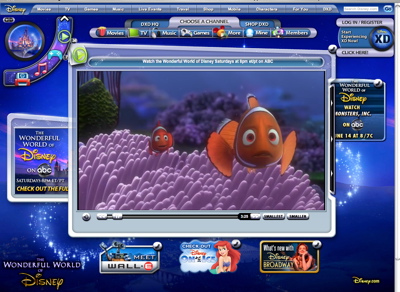 Currently available and lasting until June 13 is "Finding Nemo." Subsequent movies during the summer will include "Monsters Inc.", "Haunted Mansion," "Confessions of a Teenage Drama Queen," "Princess Diaries 2," "Freaky Friday," and "Peter Pan."
ABC streams its episodes in a similar fashion on its own site, with a player somewhat smaller in size and a different advertising method.