Updated AOL Radio launches in beta

Today AOL opened a new version of radio.aol.com, with CBS terrestrial radio stations now available through a dramatically revised front console.
AOL Radio offers over 200 free online radio stations and 150 local CBS Radio affiliate stations. When users tune into an AOL Radio station, an "album view" image is shown in the main window, offering more information on the artist, song, and album on AOL Music. Certain tracks have "Buy" icons that link to download shops such as iTunes for purchase.
Browsers supporting Adobe Flash v.9 can access AOL Radio with no sign-up necessary, and users of AIM version 6.0 and higher can also listen to AOL Radio through the mini-player in their buddy list. Integration with AIM is also included in the browser-based player through the "share this" tab, which allows users to share the station they're listening to with their buddies. Unfortunately, if you are using a multi-platform chat client, the share via AIM function does not work, and prompts you to download AOL Instant Messenger.
The disparate natures of Internet and broadcast radio manage to mesh well in the new AOL Radio player, now prominently powered by CBS Radio. Since the traditional radio stations have huge blocks of commercials, the user can easily switch over to Internet radio and skip around with much less interruption.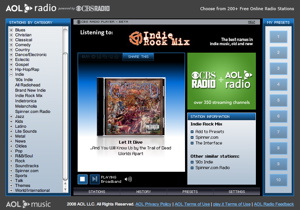 I was subjected to a single ten- to twenty second video commercial for every dozen songs I listened to, and switching between CBS and AOL stations forced me to view advertisements as well.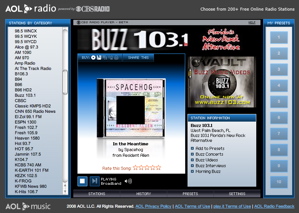 While AOL Radio offers a multitude of content to listen to, it ultimately suffers from a lack of the interactivity that "seeded" online radio services like Pandora and Jango give.
Many stations, though offering both pause and skip functions, lacked the ability to actually skip songs. Additionally, the "History" function of the player only allows the user to tune back into stations to which he previously listened, not the individual songs.