Palm Centro finally makes its way to Verizon Wireless

Palm and Verizon Wireless today jointly announced that the popular Palm Centro smartphone will launch for the VZW network starting tomorrow.
Interested customers will be able tomorrow to purchase a cobalt blue Centro for $99, after rebates and a two-year service agreement. In addition to the voice plan, customers can pay $29.99 per month for unlimited data and an additional $30 per month for the ability to tether the phone to a laptop for use with Verizon's Broadband Access.
The Centro features a full QWERTY keyboard, 320x320 pixel touch screen, 1.3 megapixel camera, and Bluetooth technology. It also uses Palm OS 5.4.9, and has only 64 MB internal memory built in, though it's expandable to a much more comfortable 4 GB through a microSD slot. It measures 2.1" x 4.2" x 0.7", weighs 4.2 ounces, and for VZW, it will support EV-DO network, but not Rev A.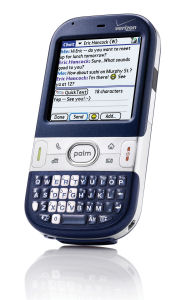 Palm has had difficulty staying competitive in the smartphone market, though the Centro's release last October helped the company reclaim an estimated five points of market share. IDC research shows Palm now controls 13.4% of the US smartphone market in Q1 2008, way up from 7.9% in the previous quarter, but still down overall from a high of 23% in Q1 2007. Palm is also seeing success among new smart phone owners, with 70% of all Centro users being new to smart phones.
The Centro has been the fastest selling smartphone in Palm's history, selling more than one million Centros so far in the United States -- where it's already available on AT&T and Sprint -- and recently launching to Telstra network users in Australia.