Palm tries for a smartphone rebound with Centro

With new device releases and firmware upgrades, Palm is clearly paying much less attention recently to its older Treo platform than to its newer and cheaper Centro, perhaps in an effort to maintain its own existence.
Palm Inc. seems to be carving out a lower-end niche for itself in the smartphone market. Statistics from industry analyst firms have strongly suggested that Palm needs to do something about revamping its platform in order to regain market share, particularly in light of competition from Apple's iPhone.
Palm's latest moves include a somewhat significant firmware update for Sprint's Centro; an upgrade to Windows Mobile 6 for the Treo 700wx; though not until this summer; a bug-fix update for the Treo 755p; and the first edition of the Centro for Verizon Wireless. New VZW customers who sign on for two-year contracts can now buy a cobalt blue device for $99 after rebates.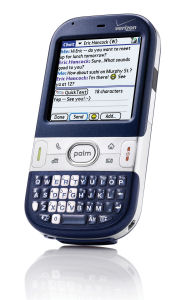 Although small in size, the Palm OS-based Centro for VZW offers a full QWERTY keyboard, a touchscreen, Bluetooth wireless, a 1.3-megapixel camera, and a microSD slot for memory expansion. Other capabilities include a document viewer and editor, in addition to push e-mail with support for Microsoft Exchange ActiveSync, Xpress Mail, and Good Messaging. VZW is charging customers $29.99 per month for unlimited data and an extra $30 for the ability to connect the phone to a laptop for broadband PC-based Internet access. The Centro supports VZW's existing EV-DO (non-Rev. A) network.
With the new 1.06 version of firmware for Sprint's edition of the Centro, users will get enhancements that include better mobile voice control, improved audio, faster AIM (AOL Instant Messaging), and improved Versamail with increased support for Microsoft Exchange Active Sync Push.
Sprint was the first wireless provider to offer the Centro last fall, with AT&T Wireless following suit.
As for the Treo updates, the Treo 700wx will receive an upgrade from its current support for Windows Mobile 4 -- but only to Mobile 6, as opposed to 6.1, and not until this summer. The upgrade will work on 700wx only, and not on the 700w.
Reportedly, the new firmware for the Treo 755p will mostly include a minor bugfix for improving the phone application, stability, and "device usability."
The lower-cost smartphone does seem to be shoring up Palm's fortunes at last, with research from IDC giving Palm a 13.4 percent share of the smartphone market for the first quarter of 2008. In Q4 2007, Palm devices captured only a 7.9 percent market share, down drastically from a share of 23 percent in Q1 of that year, prior to the launch of the original iPhone. Also according to IDC's numbers, 70 percent of all Centro users are brand new to smartphones.