OpenSUSE 11.0 final release now underway

---
Download OpenSUSE 11.0 GM from FileForum now.
---
One of the closest-knit of the many Linux communities is trumpeting the public release of its latest distribution, whose functional and graphical features may give it some powerful value propositions compared to Windows Vista.
In a little more than one week's time, the community behind openSUSE has managed to assemble a new online forum, hold a massive "bug day" event to weed out problems with its last release candidate, and pull off one of the most important launches in the distribution's history: the gold master (GM) of its version 11.0.
Although largely and publicly sponsored by Novell, openSUSE is very much an informal collective of enthusiasts, gathered together by people such as community manager and former Linux Magazine editor-in-chief Joe "Zonker" Brockmeier. In a blog post this morning, Brockmeier lists several of the new release's key features, including what he describes as the first stable release of the KDE 4.0 front-end, and a specially modified version of the GNOME 2.22 front end which includes the GNOME Virtual File System.
Among the included applications in the final release distribution -- now available as a DVD image in .ISO format -- are the final Firefox 3.0 release, OpenOffice 2.4, a new release of the Banshee music player that now supports video, the latest version of a composite window and 3D effects manager system called Compiz Fusion, and the latest release candidate of the oh-so-long-tested Win32 compatibility library Wine -- the community's best effort at running Windows programs on a Linux platform.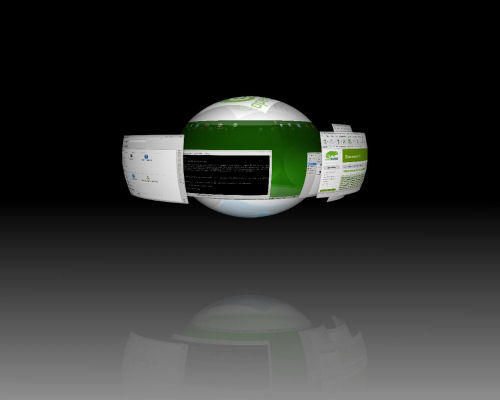 Compiz Fusion performs its magic using a variety of plug-ins that supply special effects, some as simple and practical as dimming the brightness of windows other than the one in the forefront. In one example plug-in apparently created especially for OpenSUSE, the desktop background can be wrapped around an active sphere, and open windows can be set to orbit it, like tiles floating in space.
Of course, not everything in the OpenSUSE distribution is perfectly original, or even exclusive. So just what is it that makes this distribution unique?
"I think the thing that makes openSUSE unique is that we're focused on making Linux usable for everybody, even if that means we have to ship some proprietary software out of the box -- like Adobe Flash or Acroread -- within reason," the organization's Joe Brockmeier told BetaNews this afternoon. "We want to make it easy for users to switch to Linux, and really have focused our efforts on being as well-suited to new users as possible."
Yes, you can indeed download the latest release through FileForum, as you might expect. But at least for today, expect a very long wait for that download to conclude. We've been checking for new mirrors that feature the new release, though dozens we've looked up this morning contained only the last release candidate -- if that much.
Finally, I asked Zonker a pointed question: I've been a Windows user all my life, frankly, partly because I was "migrated" into MS-DOS in the early 1980s and moved there along with the rest of the throng. If he could convince me to move to openSUSE, what would his value proposition be? Here's Zonker's response in its entirety:
Well, aside from any observations about Windows... Let me say first that if you were happy with Windows (or whatever you were running) I wouldn't try to convince you -- if someone is happy with their OS, they probably aren't a good candidate for switching. But, I run into fewer and fewer people who are happy with Microsoft Windows -- particularly when you're talking Vista.
I think openSUSE offers several value propositions and benefits that would encourage users to switch from Windows. Obviously a big selling point for openSUSE is the amount of software that is included -- and updated/managed -- with the distribution. Not only do you get Firefox, OpenOffice.org, Banshee, and hundreds of other useful (and fun) desktop (and server, if you're so inclined) applications -- all of the updates/installs for those apps are centrally managed, making openSUSE much easier to maintain than Windows.
Novell's OpenOffice is very compatible with Microsoft Office, so if you find yourself doing a lot of work in Microsoft Office, you may well be able to switch without much pain.
Obviously there's an enormous security benefit to switching. Viruses, spyware, and other forms of malware simply don't affect Linux.
I also think that the Compiz Fusion -- the 3-D desktop effects -- make Linux far more enjoyable to use than other OSes. Not just because it's neat eye-candy, which it certainly is, but because many of the features (like the cube, thumbnails, window dragging between desktops) make managing multiple windows much easier.
The application selection, in general, is very rich and I think if you give it a try you may find that openSUSE is much more fun to use once you've had a chance to get used to using a non-Windows system.
Finally, Linux simply gives you much more control over your computer, and far more choice.