Rhapsody launches its DRM-free MP3 store

Real Networks' Rhapsody has opened an MP3 store that works independently of the subscription-based service, bringing Rhapsody ever closer in design (but not execution) to the venerable iTunes.
United States customers today can access the new Rhapsody.com digital download store which offers DRM-free music for 99¢ per track, or $9.99 an album. Like Rhapsody's subscription service, users can preview up to 25 full-length tracks per month, and then all subsequent previews are pared down to 30 seconds, the same as iTunes.
Real has prominently announced that all download shop tracks are compatible with any standard MP3 player, including Apple's iPod -- a device Rhapsody's subscription tracks do not support. Unfortunately, the Download Manager for Rhapsody's digital store is not compatible with Mac or Linux, users on those operating systems must download their music as ZIP files.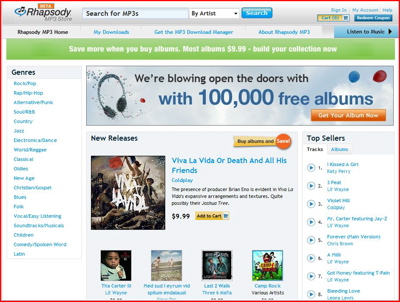 In BetaNews tests this morning, we randomly chose two single tracks and one album for purchase from the new MP3 shop. Running Windows Vista Business, we opted to get the Rhapsody MP3 Download Manager to receive the files. The download manager failed to install three times, so we opted for "No, Thanks- Zip my Files." This method also failed twice.
Logging onto the same account on a Mac (OS X 10.4.11) to try and get the files was also fruitless. Our user account was billed $22.00 and yet the files were still in the shopping cart. The only way to receive them would be to charge the credit card a second time. Attempting to access the help center was met with a 404, so a customer service ticket was opened with Real at 10am PDT. A reply was pending as of press time.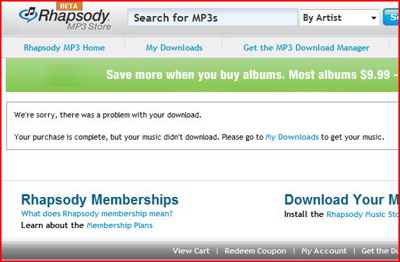 CAVEAT EMPTOR: In the user agreement during sign-up, Real clearly states that, "Each purchase can only be downloaded once. Once the download is complete, the transaction is complete. We suggest making a backup copy of your files and burning them to CD." Despite the fact that we were charged and no MP3s were actually downloaded, we were warned.