New Creative sound systems promise to compensate for poor MP3 quality

Creative introduced two new consumer-grade media players that claim to be capable of identifying different parts of an MP3 track that have lower sound quality, and remastering them to restore sound quality as much as possible.
The Creative Zen X-Fi and Zen X-Fi with Wi-Fi both offer a 2.5-in. TFT display, built-in FM radio, built-in microphone, a video converter, and SD card expansion slot for additional storage. All of the devices measure 83mm x 55mm x 12.8mm and weigh in at 69 grams.
Most notably, the new Zen X-Fi ships with X-Fi Crystalizer, a new music standard created by Creative that uses the X-Fi Crystalizer and X-Fi CMSS-3D to convert audio at the best quality available when transferring it from the PC to a Zen X-Fi. Traditionally, audio ripped to be put on a CD loses sound quality, then compressing and ripping music from a CD to a PC also makes sound quality diminish.
Some audio enthusiasts are not fully convinced of the overall effectiveness of the X-Fi Crystalizer and CMSS-3D. Many of these complaints are centered around tracks that feature low frequency sound, saying the bass quality isn't good with speakers or headphones. Another common complaint is that Crystalizer only partially helps clear up poorly ripped music files, while on the other end of the scale, may be useless for songs that only have partial sound loss.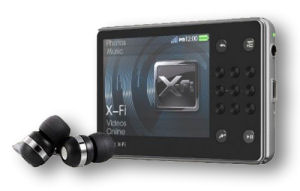 After listening to the Crystalizer for myself at a local Fry's Electronics store, I decided the difference in sound quality in higher-end speakers was not noticeable. Its effectiveness with cheaper speakers is slightly noticeable, but still isn't worth the hassle of installing and setting up the Crystalizer.
The CMSS-3D technology will then ensure all music or video played through the Zen X-Fi's built-in speakers is played with the clearest audio and video. But as with the other Creative products, most computer users are unlikely to notice a difference.
The Zen X-Fi with Wi-Fi also allows users to stream files wirelessly via instant messaging using either Microsoft Windows Live! Messenger or Yahoo Messenger.
Rumors about a new Creative Wi-Fi-enabled device last week on enthusiast forums, though Creative remained quiet about any new product announcements.
The Zen X-Fi 8 GB without Wi-Fi support will be available before the end of July for $149.99. The Zen X-Fi 16 GB with Wi-Fi costs $199.99, with the 32 GB model selling for $299.99. Both of those models are available immediately.