Toshiba launches the first Cell processor-based laptop

Toshiba's new Qosmio G55-Q802 is the first laptop available with the Cell CPU, a technology heretofore known as the PS3 processing technology among consumers, developed jointly by Toshiba, Sony, and IBM.
It's not a PC based on a Cell platform, at least not completely. The Q802 has a Core 2 Duo on board, and is a Windows Vista-based system. The result of this Cell processor architecture, which Toshiba calls its Quad Core HD Processor, is a notebook not designed for gaming, but rather to be a multimedia entertainment unit.
Toshiba highlights four proprietary features of the Qosmio that are not unique to the notebook, but are uniquely delivered: Upconversion, Transcoding, Video Indexing, and Gesture Control.
All standard definition video files and DVDs are upconverted in real time to 720p, transcoding between high definition formats, or reducing HD to DVD quality for reproduction takes place in much shorter time.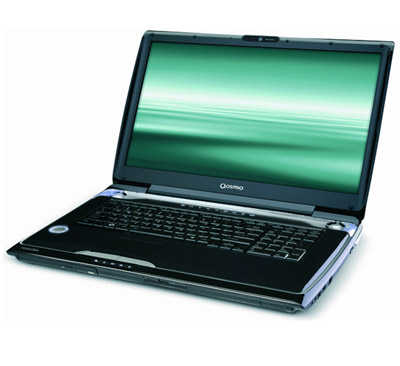 Video Indexing refers to a technique Toshiba uses to catalog video content by images present on screen, more specifically, whom is pictured in a scene.
Finally, and perhaps most entertainingly, is the gesture control feature. With this, users can control DVDs, CDs, and PowerPoint presentations simply by using hand gestures. The Qosmio's webcam detects motion up to ten feet away and issues commands according to the movement it sees.
With a suggested retail price of $1,549.99, the G55-Q802 also features a 2.0 GHz Intel Core 2 Duo Processor with 3 MB L2 Cache, 1066 MHz FSB. Add to that Toshiba's Quad Core HD Processor, 4096 MB PC2-6400 DDR2 800 MHz SDRAM, dual 250 GB 5400 rpm SATA drives, and Nvidia GeForce 9600M GT graphics with 512 MB GDDR2 discrete graphics memory. The system comes with 64-bit Vista by default, but can be configured in 32-bit according to user preference.