Microsoft's Live Mesh may or may not be open

In perhaps the most awkward launch since last week's iPhone 3G, Microsoft at least tried to start its technology preview for its Live Mesh services. But it didn't look like a preview at first, and now, it doesn't look much like a service.
This afternoon, Microsoft made testers aware it was opening its Live Mesh services suite, of services designed to be integrated into the Windows environment. But only a few hours later, the company came to realize it might have wanted to say this was a technology preview, in its initial announcement.
Not even the announcement itself was available from Microsoft's Web site this afternoon, as throughout the day, not only Live Mesh but Microsoft pages linking to Live Mesh returned a most unusual result: a Web page full of empty, inoperable search boxes and no text.
---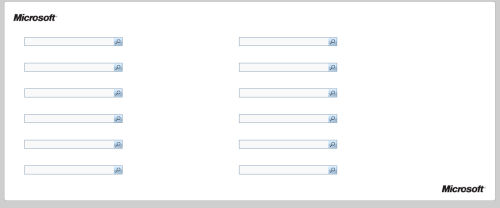 At times, attempts to reach Microsoft's Live Mesh preview were responded to with this interesting concoction.
---
An independent blog established to cover Live Mesh news, called LiveSide, took note of Microsoft's original announcement this afternoon. The announcement's original headline included the phrase, "now openly available to anyone in the U.S." and read: "The Live Mesh team is pleased to announce that anyone in the U.S. can now use Live Mesh just by signing in to www.mesh.com with a valid Windows Live ID. No sign up needed to participate!"
Within hours, LiveSide noted that Microsoft's announcement had been edited, to say that the signup process -- the same one that was completely unnecessary at the beginning of the day -- had been simplified. "The Live Mesh team is pleased to announce that we have simplified the signup process for our US customers. We are doubling the upper limit of our technology preview program. Our technology preview is still limited to ensure great performance and experience for our customers. You can now use Live Mesh just by signing in to www.mesh.com with a valid Windows Live ID. No waiting list at this time!"
Another edit stated the usage cap for the Live Mesh Technology Preview (now that we know it's a preview) had been doubled. Last April, BetaNews was informed the CTP usage cap would be 10,000.
At 5:25 pm EDT, the Live Mesh preview front page did reappear for us once, though by 5:29 it had once again re-entered the twilight zone. Once we did get a handle on that preview page (you're welcome to try for yourself), we clicked on the Sign Up button, which clearly indicated that signup was indeed necessary. We were taken to a familiar Windows Live ID page, signed in there, and were then told the preview was full.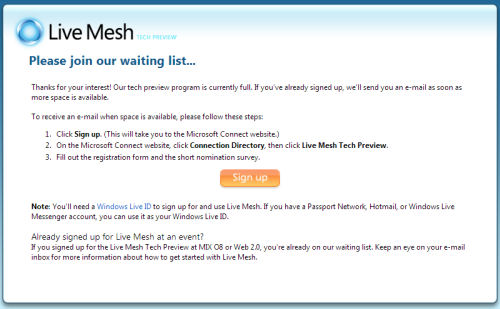 We were invited to join a waiting list, but we've been unable to navigate to that page either. Once we sign up -- if we can -- we'll see where things go from there.

FOR MORE: