Amazon opens beta of its video-on-demand service

The latest project from the leading online retailer allows movies to be streamed directly to PCs. Built upon Amazon's library of Unbox titles, beta testers get a $5 rental credit to check out the streams.
In May, Amazon CEO Jeff Bezos mentioned that an a la carte, pay-per-view streaming video service would be coming to the Site, but did not mention if it would be entirely new, or simply a feature upgrade to Unbox.
Yesterday, the beta of this service was announced as an addition to Unbox, but with its own moniker. As mentioned by Bezos, the service does in fact "start instantly," when a video is clicked, and the first two minutes of a movie or TV show are viewable for free, working on Windows, Mac, or TiVo. Much like pay-per-view TV of old (does anyone remember VEU?) this preview is meant to entice viewers into rental or purchase.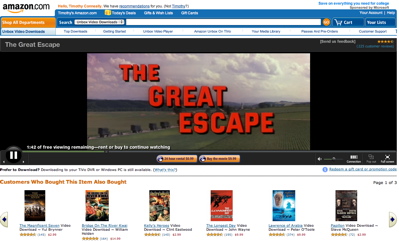 Thankfully, Amazon on Demand eliminates the need for the software downloader that Unbox has.
With a library of over 40,000 titles, Amazon Video on Demand will start with about four times the content of Netflix and its streaming service. Unlike Netflix, though, Amazon's model has the Unbox legacy, and allows for movie purchases in addition to streams.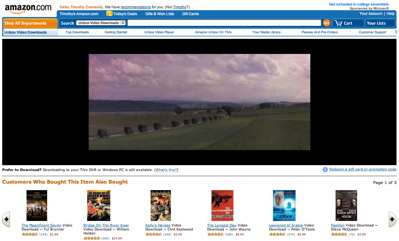 Our tests in Safari on a Macbook Pro streaming at 1328 Kbps were frequently jittery, but not punctuated with actual stops. Interrupting the stream to rewind or skip ahead also had several minutes of loading before viewing could resume.
Available content ranges from free Web-based programming to new Hollywood releases (from all production houses except Disney and ABC) for $3.99 per rental. Television episodes and back catalog movies typically cost around 99 cents per stream. Currently, Amazon accounts only allow two movies to be "playing" simultaneously. Any additional streams left paused in a user's account are stopped and must be restarted from the beginning.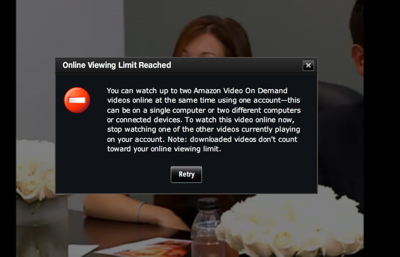 Amazon has also made this functionality available on Sony Bravia Internet Video Link, and will also make it available natively in future Bravia televisions. Though the company has said it is pursuing deals with more hardware manufacturers, it is not making any partnership announcements at this time.