Sony plans $500 'Blu-ray player for audiophiles' for fall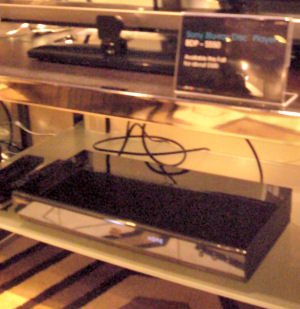 At a press event in New York this week, Sony presented a prototype of a new "Blu-ray player for audiophiles" -- the BDP-S550 -- slated for release next fall.
NEW YORK (BetaNews) -- "The S550 will provide features like some additional decoding of high definition audio streams," said Christopher Fawcett, Sony's VP of home video product management, in a meeting with BetaNews at a Sony press event here on Wednesday.
Details around the audiophiles' Blu-ray player are still being finalized, according to Fawcett. But the BDP-S550 -- which will sell for around $500 -- is also expected to add 7.1 channel analog audio output and a 1 GB flash drive to the functionality of <!article id="1216313134">the lower-end, BDP-S350 Blu-ray player that shipped this week for $400.
Fawcett told BetaNews that key features of both will definitely include support for BD-Live and BonusView (picture-in-picture); an Ethernet port for accessing firmware updates and interactive content; and a new "Home" key for the remote control unit, which works in conjunction with a simplified LCD menu for managing system and network set-up plus movie, music, and camera settings.
In another demo last night, Rich Marty, VP of product development for Sony Pictures/Home Entertainment, showed reporters some of the capabilities of BD-Live, including live online opinion polls of users and viewing of extra content like outtakes and interviews, which film studios are now adding to their Blu-ray titles.
As previously reported in BetaNews, however, although Sony's PlayStation 3 already supports BD-Live, a firmware update is still in the pipeline for enabling BD-Live in the BDP-S350.
<!media id=1811 right>According to spec sheets supplied to BetaNews, other features common to both players will include an external USB port for local storage; 7.1-channel Dolby TrueHD and Dolby Digital Plus decoding and bit-stream output; DTS-HD High Resolution Audio and Master Audio bit-stream output; 1080/60p and 24p True Cinema output; and Bravia Sync technology for quick resume of connected devices.
Marty told BetaNews that, like the BDP-S350, the BDP-S550 will also be smaller and lighter than its own predecessor. But the form factor differences will be a little less noticeable between the BDP-S550 and BDP-S500 than between the BDP-S350 and BDP-S300, he elaborated.