Sony ships S350 Blu-ray player for $400, firmware awaited

Sony's latest entry-level Blu-ray player might be sleeker than its predecessor, but pricing hasn't come down any. The new BDP-S350 is shipping, but a firmware upgrade will be needed to make it the first non-PlayStation to work with BD-Live.
NEW YORK (BetaNews) - On Wednesday evening, Sony unveiled the BDP-S350, a smaller and lighter external Blu-ray disc player which adds new navigation and set-up features, along with planned upgradability to BD-Live, an online interactive site still currently available only for PlayStation 3.
While the BDP-S350 Blu-ray player is only about half the size of its predecessor, the BDP-S300, pricing will be the same at $400, said Christopher Fawcett, Sony's VP of home video product management.
In a demo for BetaNews at a Blu-Ray-oriented press event here on Wednesday, Fawcett showed a new "Home" button that's been added to the S350's remote control unit for managing set-up and changing settings.
When you click on the remote's "Home" button, you're brought to a new menu on the same PC-connected LCD display you use for watching Blu-ray movies. The menu presents icons for system settings, network settings, and set-up. If you want to change your music preferences, for example, you click on a musical note.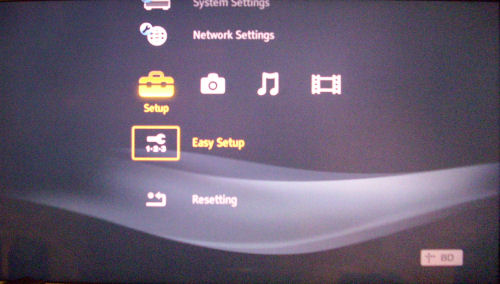 Although PS3 machines contain built-in support for both BD-Live and PlayStation Network, the BDP-350 is only going to support BD-Live, he said. Whenever the firmware upgrade becomes available, the new external player from Sony will be the first non-PS3 device to work with BD-Live, an online site that enables interactive features and extra content such as film out-takes on Blu-ray movie discs.
The BDP-350 started shipping yesterday. When asked later at yesterday's event about the firmware upgrade, Rich Marty, VP for product development for Sony Pictures/Home Entertainment said that he couldn't give an exact date for that yet. "But it will be soon," BetaNews was told.
Meanwhile, of course, lots of end users have been complaining online about experiencing various compatibility problems around Sony's updates to Blu-ray firmware.
"Most current players do not support all the functions that studios place on the discs. Lacking support for -- or upgradability to -- [BD Live], consumers cannot utilize all the available options," noted Steve Wilson, an analyst at ABI Research, back in April.
Blu-ray pricing is also an issue for many. As previously reported in BetaNews, at another press conference in New York earlier this week, Sony rolled out four new Vaio PC notebooks, including one model -- the Z Series -- billed as the first laptop from Sony to include a Blu-ray drive. The Blu-ray option, though, adds an extra $800 to the $1,800 base price of the Z Series.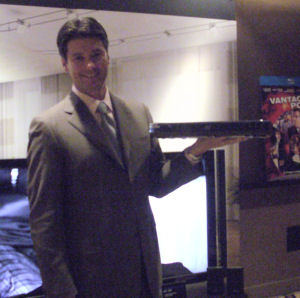 Fawcett told BetaNews he can't speak about pricing of Sony's internal Blu-ray drives, since those are outside of the products he manages. He added that he doesn't anticipate a price drop below the $400 level on Sony's external Blu-ray players "for the foreseeable future." Sony is positioning itself for "innovation" and higher-end features, according to the VP.
"But some Blu-ray players [from other vendors] are already being sold for under $400," BetaNews was told.
Although Fawcett didn't pinpoint the lower-priced products, pricing for Samsung's BD-P1400 player reportedly slipped below $300 at the end of last year, and Magnavox released a new sub-$300 Blu-ray player in the US in June.