Ex-Googler creates 'Cuil' search engine, but results fall short of rivals

New search engine Cuil has opened to the public, and with it, the requisite comparisons and challenges to Google, former employer of Cuil's engineering team. But the site is experiencing much downtime in its first day.
Built with $33 million in venture capital from Greylock Partners, Madrone Capital Partners, and Tugboat Ventures, Cuil is made up of an all-star team of Web technology veterans. The husband and wife founders are Tom Costello, creator of Xift, and Anna Patterson, creator of Recall, a technology now used by Google. Rounding out the team are ex-Google engineers Russell Power and Louis Monier, also the ex-CTO of AltaVista.
Cuil's claim to fame is that its search index contains over 120 billion sites, which it says is more than Google. The search engine features a homepage that shares Google's minimalist design ethic. Query results are returned in a columned and tabbed window not unlike the "GluePage" Yahoo tested earlier this year in India.
Recent remarks made by Patterson to the media that challenge Google are a definite misstep for the parvenu engine. She has been quoted as saying she believed Cuil's index was at least three times the size of Google's, a number which would otherwise have been difficult to substantiate, as Google does not regularly advertise the size of its index.
However, responding to inquiries about this statement, Google came out in its blog Friday, saying it regularly scans through over a trillion unique Web links, but doesn't index duplicates or inferior results.
A further challenge to Google, the Cuil team also touts superior user privacy, as the site does not use cookies or record user IP addresses. Google has faced considerable criticism from privacy advocates for its data retention policies.
Undoubtedly the most important aspect of a search engine is user experience and the quality of query results it yields. In BetaNews tests this afternoon (access to the site has been sporadic, with frequent "unavailable" messages), Cuil came up short in boh areas.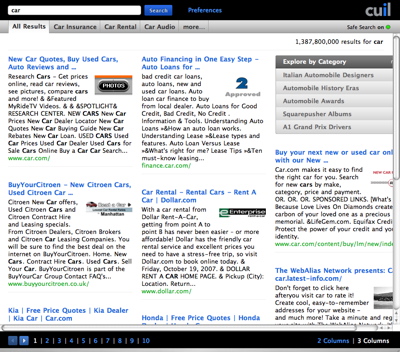 Searches for the term "torino" yielded no results, but "Torino" (with a capital T) gave a considerable list of hits. The term "Commodore 64," one of the most popular computers of the 8-bit age turned up zero results, regardless of case. The same happened in a search for "Windsor."
A side-by-side comparison with Google and the search terms "barrage of noise" is shown below, Cuil returned no information, and Google returned over 90 thousand pages of links.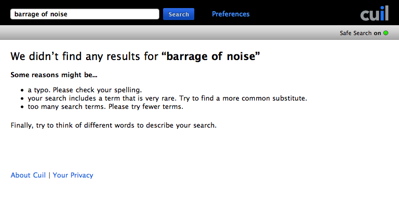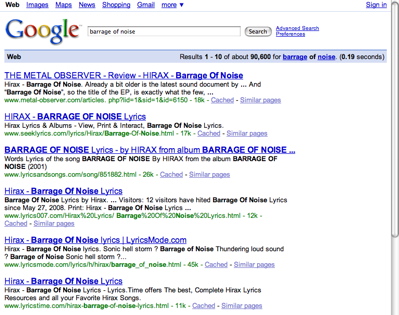 While Cuil is sill brand new and a promising new entry into the search engine category, a public relations attack on Google risks making the company look amateurish. If industry leaders like Microsoft and Yahoo still fall behind Google in search share, a startup needs to really offer something special before it can hope to challenge Google.
Another potential issue facing the newcomer is the name it chose. The arcane name "Cuil" is a play on Gaelic hero Fionn mac Cumhaill, better known as "Finn MacCool," meaning the service is pronounced "Cool." However, a simple re-arrangement of Cuil points to an adult-themed site, as the typo is slang in some romance languages for a particular body part.