Toyota developing a Segway-like transportation device

Better known for its automobiles, Toyota is now planning to move into the personal transport business with the "Winglet," scheduled to become available in the early part of the next decade.
The devices seem to share a lot in common with the Segway, which pioneered the category with its Human Transporter. In fact, the design of Toyota's "L" Winglet model looks quite similar.
In addition to the "L," Toyota is developing two other models, the "S" and the "M" (ostensibly corresponding to small, medium, large), which are shorter and appear to have different intended uses. The "M" model is shorter and looks designed for younger rides, while the "S" appears to be a "hands-free" device -- like a Segway without a handle.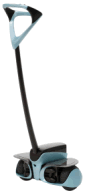 Internal sensors will monitor the user's position on the Winglet and allow for steering using shifting of body weight, much like the Segway operates. In addition, the Winglet will have a similar stability mechanism to ensure a rider does not fall off the device. Of course, we all know that this is not necessarily the case, as so aptly demonstrated by President Bush in 2003.
Initial tests of the practical use of the Winglet will begin in the fall at Central Japan International Airport, and Laguna Gamagori, a seaside marine resort. Toyota researchers will be looking at the device's usefulness for mobility. This will be followed by tests of the Winglet's use in crowds and non-owners reactions to the device in 2009 in the Tressa Yokohama shopping complex in Yokohama City.
No specific date has been given for the Winglet's expected commercial release, if Toyota succeeds in bringing the transporter to market.