Can a Qualcomm veteran revive Motorola's cell phone unit?

Motorola's mobile phone division, spun off from the rest of the company, now has a new chief executive: Sanjay K. Jha, an engineer who's held a variety of roles at mobile chip maker Qualcomm over the past 14 years.
Tapped by Motorola for his knowledge of the mobile industry and his operational experience, Jha will serve as chief executive of the new mobile phone division, in addition to sharing the title of co-chief executive for all of Motorola with Greg Brown, who previously held that title alone.
At the same time, Brown will take on the title of chief executive of the "other" part of the now divided Motorola, its home and business broadband arm.
Questioning whether Jha's expertise can translate well at Motorola, some analysts have pointed to the differences between the chip and mobile phone industries.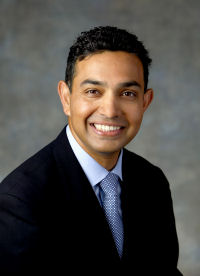 Sanjay Jha, the new chief executive of Motorola's phone unit. [Photo courtesy Qualcomm]
Jha's main tasks at Motorola, however, look to revolve around raising financial profitability while inspiring innovation among the troops. Jha seems to have done both of these things well at Qualcomm. Most recently as COO there, he oversaw both Corporate Research and Development and Qualcomm Flarion Technologies (QFT), a unit formed after Qualcomm's 2005 Flarion buyout to integrate Flarion's Flash-OFDM technology for reusing off-the-shelf IP infrastructure in providing high quality wireless connections.
Simultaneously, Jha was also president of QCT, Qualcomm's chipset and software division. In 2005, the Fabless Semiconductor Association named Qualcomm the best financially managed fabless semiconductor company for the fourth year in a row. For fiscal year 2006, revenues of the QCT division amounted to more than $4.3 billion.
After receiving a Ph.D. in electrical engineering from Strathclude University, Scotland, Jha initially launched his career by working in lead design engineering roles in the semiconductor industry for Brooktree and GEC Research Labs in London.
Upon joining Qualcomm in 1994, he worked his way through the ranks to become director of engineering for QCT in 1996. In 2000, he formed Qualcomm Technologies & Venture group, serving as its senior VP and general manager.
Originally spearheaded by activist shareholder Carl Icahn, the split-up of Motorola was aimed at least partly into breathing new life into Motorola's cell phone business, which has not produced a major product hit since the RAZR phone back in 2006.
As previously reported in BetaNews, the troops in Motorola's mobile phone unit became reorganized in April into separate "Mass Market" and "Mid and High Market" product teams, with each of the two teams combining hardware and software specialists.
Today's news comes as Motorola rolled out the ROKR EM30, a GSM quad-band phone and music player based on the LiMo operating system.