Plastic Logic displays newest e-book reader

More than two years after debuting the concept, Plastic Logic will premiere its first demo model e-book reader at DEMOfall in San Diego.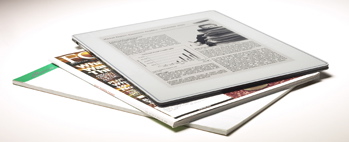 Like most other E-books, Plastic Logic's Reader is built around E-Ink's VizPlex imaging film. This Electronic Paper Display (EPD) technology can be found in the Amazon Kindle, Phillips spinoff iRex's Iliad, the Sony Reader, and the soon-to-be-available Readius from Polymer Vision.
Until recently, Plastic Logic had only shown early prototypes, such as the one pictured in the video below, but the company is now showing off more complete working models. Plastic Logic's un-named reading device is about the same size as a sheet of 8.5" x 11" paper, with a display over twice the size of the Amazon Kindle, the device analysts have referred to as the "iPod of the book world." As the company's name suggests, the major difference it hopes to provide is in the screen's plastic substrate. making it lighter, more durable, and 100% more flexible than glass displays.
---
| | |
| --- | --- |
| | A demo of Plastic Logic's first e-newspaper reader device. |
---
Founded by Cambridge University researchers, Plastic Logic has been working on its EPD reader for nearly ten years. After receiving $100 million in funding last year, the company will open its flagship manufacturing facility in Dresden, Germany in just over a week. Plastic Logic expects to be able to begin shipping its first EPD product in the second quarter of 2009, when it will also receive an official price. The company has thus far only said it will be "competitively priced," which would place it between $399 and $599.