Samsung readying netbook with 6 cell battery, but probably not for US

Anticipated for delivery in October, Samsung's first ever netbook is likely to offer five hours of battery life. It will be priced at the equivalent of $550 USD. If you'd like to buy one of these devices in the US, however, don't hold your breath.
While an official announcement still awaits, Samsung is expected to step into the netbook (or sub-laptop) fray during October in Korea, the United Kingdom and some other markets, although not initially in the United States.
Samsung's Intel Atom 1.6 GHz netbook device will stand out from the pack due to its six cell battery -- a type of battery generally able to last five hours without recharging -- and integrated Bluetooth wireless, based on reports emanating out of Korea by way of the UK.
Unlike Dell's recently launched Inspiron Mini 9 netbook, which uses a solid state disk drive (SSD), Samsung's device will be outfitted with a hard disk drive (HDD), in a choice of 80GB, 120GB, or 160GB configurations.
Other specs for Samsung's netbook will include a 10.2-inch, 1024x600 screen; 1GB RAM; a 1.3-megapixel webcam; integrated WiFi; LAN support; a 3-in-1 card reader; VGA out; and three USB ports.
Pricing in the Korean market is anticipated at 600,000 won, the equivalent of about $550 USD.
Although it isn't known yet whether Samsung's netbook will ever be available in the US, this hasn't happened yet with any of Samsung's laptops.
Toshiba, meanwhile, has launched its own Atom-based 1.6 GHz netbook with an 8.9-inch screen, 120GB hard drive and 1GB of RAM. Running Windows XP Home and known as the Satellite NB105, the nearly handheld device was unveiled Friday by Toshiba Meixco and will be available in November.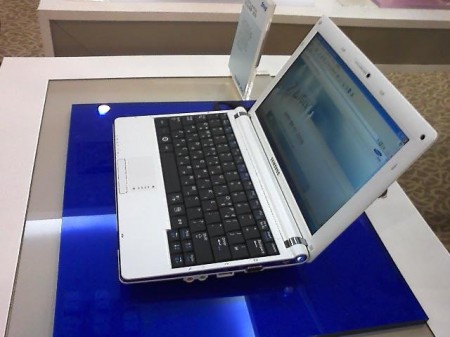 Samsung's 10.2-inch netbook with 6-cell battery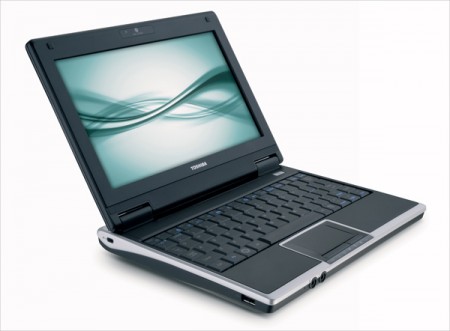 Toshiba's Satellite NB105 netbook