Sirius CEO Karmazin looks to 2010 for handling 2009 debt

[M.E.'s NOTE: This story includes updated information that corrects a previous edition that was posted earlier this afternoon, with information that reflects a response that BetaNews received directly from Sirius XM Satellite Radio. This version corrects an earlier misinterpretation of CEO Mel Karmazin's remarks.]
Prior to the merger between XM and Sirius, investors and even the companies' executives wondered whether there could be enough revenue to offset the debt. This week, the merged entity's CEO presented his plan, and asked investors to have faith.
"I guess the good news was that we got it done; the bad news is, the price we paid to get it done." That was Sirius XM Satellite Radio CEO Mel Karmazin's way of letting investors know, during an investors' conference last Tuesday, that his plan to tackle an approximate $1.05 billion of financing debt that will come due in 2009, was not without significant cost.
An estimated $300 million of debt, in the form of what's called 441 converts, will be fully matured next February 2009, followed by another $350 million in May and $400 million in December.
In order to raise the financing needed to help his newly merged company through this rough period, Karmazin said, he had to find $400 million in "synergies" -- operations which Sirius and XM were operating in parallel, whose duplication could be easily eliminated.
---
| | |
| --- | --- |
| | A projection of Sirius XM's revenue turnaround in 2009, from the company's investors' conference on September 8, 2008. (Courtesy Sirius XM Radio Inc.) |
---
Executive positions were among those parallels, along with satellite and terrestrial operations ($20 million), sales and marketing ($150 million), subscriber acquisition costs ($50 million), general and administrative expenses ($50 million), and customer service and billing ($20 million).
And then there's programming. "We have found $60 million in the area of programming, we obviously are rationalizing our content, we are looking at how we can provide both services with the best programming that exists, and that means significant reduction in the number of different channels we produce, and dealing with the best channels that we have."
In all, Karmazin and his team have found $425 million in "synergies," where elimination of duplication can help the company meet its debt repayment goals. For the rest, Karmazin is asking investors to have faith in his company's positive cash flow, which he says will yield its first black ink in 2009. It'll be that cash flow that puts his company in a healthier position to deal with that debt when it comes due.
---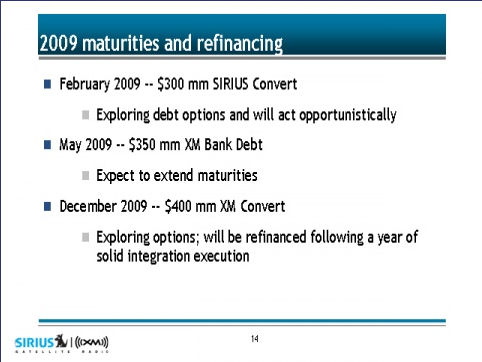 A summary of the three '441 converts' that will come due for Sirius XM in 2009. (Courtesy Sirius XM Radio Inc.)
---
"If you take a look at '08 as being the year that we are transitioning from where we were before the merger to 2009, our revenue in 2007 pro-forma-ing the two companies together was $2.1 billion," reported Karmazin. "That $2.1 [billion] for '09 is $2.7 billion, a 28% increase in revenue. You take a look at our operating expense, our total cash operating expense in 2006, we had $2.6 billion of expenses. That's not good when your expenses are higher than your revenue, and that what resulted in a negative operating EBITDA [Earnings Before Interest, Taxes, Depreciation, and Amortization] of approximately $500 million. The revenue in 2009 goes from $2.1 [billion] to $2.7 [billion]. Approximately 28% revenue growth over that period of time. The $2.6 [billion] in operating expenses go to $2.4 billion -- a reduction in cost, resulting for the first time in the history of satellite radio for 2009 having $300 of EBITDA, and that number accelerates in the year 2010 and beyond."
While 2009 may be the year of the black ink, where earnings finally point to a positive $300 million, Karmazin argues that investors will have patience until the following year. As long as things are looking up, he argued Tuesday, 2010 will be when the company is in good enough shape to take care of its 2009 problems.
"The third piece [of maturities] that will come up is in December of '09, where XM will have a $400 million convert," the CEO reported. "And our viewpoint on that is, now is not the right time for us to deal with that December '09 convert, because what we will be looking at in 2009 -- particularly in the middle of 2009, after we've achieved all of these synergies and EBITDA -- is, what does 2010 look like?
"If you take a look at 2009, when we're sitting there with $300 million of EBITDA, we've not given any guidance of where we will be in 2010. But people have speculated that we will be in the $700 - $800 million [range] of EBITDA," Karmazin continued. "So let's assume $700 million of EBITDA. If there's just under $3 billion of debt, what we're talking about is four times EBITDA would be the total debt structure of the company. Assuming the $700 million, and look at the cash interest expense, you're looking at close to two-to-one coverage on a free cash flow basis. And we believe, as horrible as the debt market -- and I'm being recorded, so I understand what I'm saying...as horrible as the debt market is, we think that that company that has that kind of coverage will find it very easy and very attractive to finance that last piece of the debt market going forward, that we have there."
Back in August, Karmazin hinted that Sirius was not in the best financial shape, although Sirius seemed to denied those allegations by pointing to its improving quarterly results.
However, analysts are increasingly beginning to worry that the merged company may not be able to stay afloat -- a fear that is bleeding into Wall Street. Sirius' stock has fallen from an open of $1.26 on Tuesday to a low of 86 cents late Thursday, a drop of more than 30%. The stock has since rebounded slightly to close at 95 cents on Friday.
"Sirius XM needs to get the market excited again as if its life depends on it. Because, quite frankly, it does at this point," Rick Munarriz wrote for The Motley Fool.
NASDAQ rules state that a listed stock cannot close below $1 for more than 30 days without receiving a warning. If Sirius XM cannot get its share price above that level, it could face a delisting, further damaging the satellite radio provider's ability to raise capital and pay off the debt.
Sirius XM's outspoken CEO remains defiant in the face of bad news and is confident things can be turned around. Karmazin says Sirius XM's troubles will be aided with bank financing -- asking banks to extend the repayment terms out further, so the company can lower its payments.
Selling assets may be another option. Right now the company maintains two headquarters, one being XM's former DC area office, and the other Sirius' NYC location. Karmazin said that is a possibility but it is currently not being considered.
Not everybody is sour on the company's chances. "This is a new company, only 40+ days old and it should be viewed as such," Brandon Matthews argued for Seeking Alpha. "Investors now have an opportunity to own stock in a company, with 2-3 billion dollars in annual sales and growing, for under a buck. Are you kidding me?"
Though Matthews may have been shooting off fireworks, even Mel Karmazin by comparison was sounding a more cautious tone.
"Are there people who would like to invest in our company?" the CEO asked at one point, in response to an analyst's question. "In my opinion, the terms -- and I've not had any discussions on it, because obviously there's very few people that want to invest at a price that's double...or triple what the market is saying it's worth. But we never thought that our 441 converts were something that we were going to have to deal with. As we got into 2008, it became apparent at the beginning of this year that we're going to have to take it out. The debt market -- not necessarily the publicly traded debt market, but the bank market -- as ugly as banks are, and as much as they don't want to use their balance sheet, and as much as they don't want to do it, we have been encouraged."
"At this point, am I going to lend the company the money?" Karmazin asked rhetorically. "I hope not. I hope we don't get to that."