Yahoo tests redesign, boosts music search with Rhapsody

In what could be the most sweeping changes yet to its front page, Yahoo is testing the impact of a redesign in the US, UK, France and India, and has already added the capability to play back full songs in response to a music search.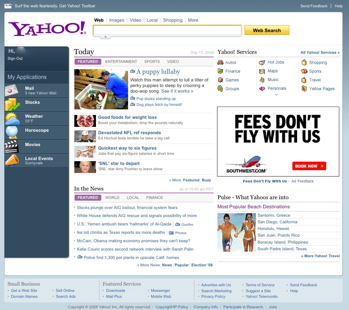 Yahoo's forthcoming upgrade bears slight resemblance to the existent My Yahoo page, except in a couple of critical respects: Naturally, the Yahoo search field is the paramount item on screen, and the left-hand navigation pane is where the new Yahoo and the present My Yahoo are most similar. In My Yahoo (and the standard home page), a quick-links bar connects users to Yahoo's other services; in the new Yahoo home page, that component has become the "My Applications" dashboard. It links to the same services, however in the redesign, the user defines which links are shown, and contents are no longer limited to Yahoo properties.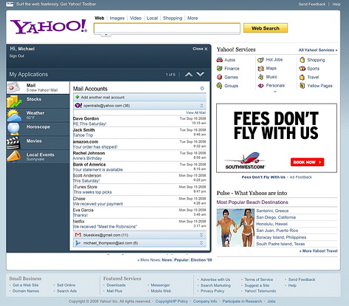 For example, the "Mail" tab will not simply link to a user's Yahoo mailbox as it presently does, but it will provide a preview of mailbox contents for Yahoo, AOL, and Gmail accounts, with support for more services pending. By turning the homepage into a portal through which users can access other services, Yahoo will be able to keep serving ads to those users. It's the same tactic used in My Yahoo, but only about one-third of Yahoo's nearly 500 million users actually utilize that service; and it's a similar tactic to the one recently employed in AOL's latest front page redesign.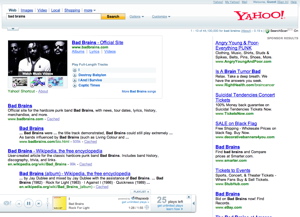 Additionally, through its partnership with Rhapsody, Yahoo can further keep users glued to their search page. Effective now, searches for a band or song on Yahoo yield a Rhapsody window and branded player that allows relevant songs to be listened to in full. Like Rhapsody's own MP3 store, however, this is limited to 25 free listens per month. Subscribers gain unlimited access to the service.
Yahoo declined BetaNews' offer to help test the new front page, though the company did supply us with these screenshots.