Apple recalls iPhone 3G USB adapters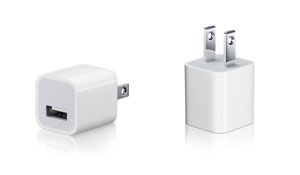 Due to inherent risk of electrical shock, Apple has instituted an exchange program for iPhone 3G ultracompact USB power adapters. According to the company, the adapter's metal prongs can break off and remain lodged in power outlets.
After receiving reports of detached prongs, but no injuries, <!external href="http://www.apple.com/support/usbadapter/exchangeprogram/">Apple has set up an exchange program where the faulty adapters can be replaced with newer, redesigned ones. Exchanges can be initiated in Apple's retail stores beginning on October 10, or <!external href="https://supportform.apple.com/200809/">immediately on Apple's support site.
Setting up the exchange on the site should be quick and painless. Apple says "It is very important to return the original power adapter to Apple. We will provide you with pre-paid shipping materials for the return. Your new adapter will ship in approximately 3 weeks."