SanDisk's slotMusic may have to survive a company takeover

The maker of microSD memory is a highly desirable property for both Samsung and Toshiba right now, and its newly-announced content delivery service slotMusic could almost be useful to either, at a stretch.
Since 2004, a full three years before Apple's iPhone became a reality, pundits predicted that the eventual "iPod killer" would be a phone. At that time, the predictor of things to come was the Samsung SPH-V5400, a music phone with a built-in 1.5 GB HDD. Analysts came to a consensus that the music phone would do for the MP3 player what the camera phone did for the point and shoot camera.
In the interim, flash-based memory has given phones great magnitudes of storage with practically no increase to their overall girth. A 15mm microSDHC card can add 8 GB of space to supportive devices for around $35. Early this year, Sandisk announced it had completed a 12 GB microSDHC, and rumors of a 16 GB unit have also been circulating since this announcement.
Today's slotMusic announcement from SanDisk inevitably draws attention back to Samsung and its recent hostile takeover bid for the storage company, and Toshiba with its interest in making a counter-offer. What could these two companies gain from slotMusic?
NPD director of industry analysis Ross Rubin told BetaNews this afternoon, "The Samsung takeover underscores the development of slotMusic as an attempt to take greater advantage of the maturing media environment for cell phones and other devices. SanDisk has been inventive in thinking about its own branded applications for flash, although some of those (Gruvi and TakeTV, for example) have been marketplace failures."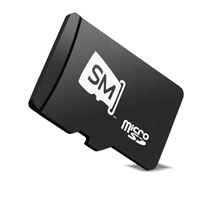 As SanDisk is the maker of some of the top non-Apple MP3 players, the company consistently includes unique features, one of which is the microSD slot such as those found in the Sansa e200 and Fuze MP3 players.
"The iPod eschewed such memory slots and it has long been the market leader. The Zune also lacks such a slot, although not surprisingly most Sansas have one," Rubin continued, "SlotMusic plays into a growing trend of phones sporting accessible removable memory slots. NPD Mobile Phone shows the percentage of phones with such slots growing quarterly. However, it seems that relatively few consumers are sideloading music to the phone or to a memory card slot that they put into the phone."
Indeed, the method of loading music onto cell phones is currently one of the reasons we're not yet seeing them fully replace MP3 players. Nokia's Comes with Music is an attempt to change that, as is Sony Ericsson's PlayNow; these are music services especially for those company's users.
"SlotMusic won't replace the CD, but it is an opportunity to restore some of the experience of physical browsing to cell phone music. As long as it remains a hassle to get music onto these devices, it will have a place, and could be a good fit for, for example, airport kiosks."
So slotMusic has a niche, albeit a rather small one -- either the impulse or convenience purchase -- and if SanDisk was taken over by Samsung or Toshiba, it is not a niche that would warrant a great deal of further exploration. Further, Samsung's interest in SanDisk is not likely the Sansa, or any music platform, for that matter. Major motivations for the Samsung's attempted acquisition are SanDisk's intellectual property for multi-level cell (MLC), its existing memory business, and fundamental intellectual properties in the developing "3D Memory" technology.
Toshiba, on the other hand, produces the Zune for Microsoft -- which, as Rubin noted, does not offer microSD, either. Furthermore, Microsoft's Zune Marketplace is one of the most solid device-specific content stores out now. Toshiba's interest in SanDisk is no doubt related to the preservation of its Japan NAND flash chip facility that it co-manages .
Both companies could almost use slotMusic...they were this close.
FOR MORE on SanDisk slotMusic: