The newest touchscreen phone...for landline!

AT&T has announced its HomeManager, a 7" touchscreen device by Samsung that looks to revitalize landline communication by bundling it with other services.
The HomeManager device offers converged content through its simultaneous connection to a broadband router and to a landline. Voice calls can take place both over VoIP or landline, and address book syncing from AT&T Mobile Backup allows customers to port their mobile device's contacts over to the HomeManager base station. The touchscreen device acts as a portable speakerphone, but also comes with a Dect 6.0 cordless handset for regular conversations.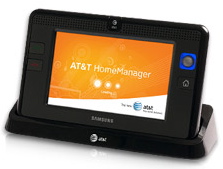 The 800x400 24-bit color touchscreen also accesses Internet content such as news, weather, and e-mail in addition to a touchable (finger or stylus) Yellow Pages interface. It can double as a digital frame when not in use, as it accepts SD cards or USB flash memory. The unit's internal storage is limited to 256 MB.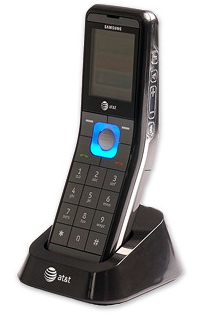 Initial launch markets for the device will include nine US cities: Chicago, Atlanta, Austin, San Antonio, Houston, Dallas, San Francisco, San Diego, and Los Angeles. Service will cost an additional $299 for customers with either an AT&T landline, high speed internet connection, or U-Verse package. Connectivity requirements include broadband internet with a spare Ethernet port, and either a landline or VoIP line with telephone adapter.