Sony's latest lightweights will have SSDs, play and burn Blu-ray

The smallest Sony devices to show Blu-ray movies on big and small screens aren't PlayStations. They're super-small, lightweight Vaio computers, and like a certain banned iPhone app, they have "I Am Rich" written all over them.
There have been, and continue to be, two classes of customers for small computer devices. One class is interested in making functionality portable enough to achieve true data mobility, and it's that class to which the latest rounds of MID and netbook form factor computers are being pitched. The other is interested in seeing how much hardware can be shrunken down to a minimum form factor -- oftentimes without regard to cost -- and it's that second class to whom Sony is playing today, with its latest miniaturized Vaio notebooks, slated to roll off the assembly lines this fall.
Let's start with the part that usually goes at the end of the story: Sony's new top-of-the-line miniature Vaio TT will sell for $2,750. Very well, shock over. What it will feature is a 1366 x 768 display (yes, that sounds unusual, but there's a reason) that enables the playback of Blu-ray videos at a 16:9 aspect ratio, with very minimal letterboxing. Naturally, playback on the display won't be 1080p, though an HDMI connector enables it to connect to any modern HDTV, where the drive can play back at 1080p resolution.
There are two new TT models with two buildouts per model, with the higher-end TT198 being skewed toward high-end consumers with a slightly faster processor and Blu-ray burner drive. That said, both the TT198 and the lower-priced TT160 actually pass the test for trusted business platforms. They both have biometric fingerprint touch sensors, and are compliant with the Trusted Computing Group's version 1.2 specification. That enables both to serve as "Trusted" platforms, which more businesses are requiring -- especially those that are mandating their hard drive contents be encrypted.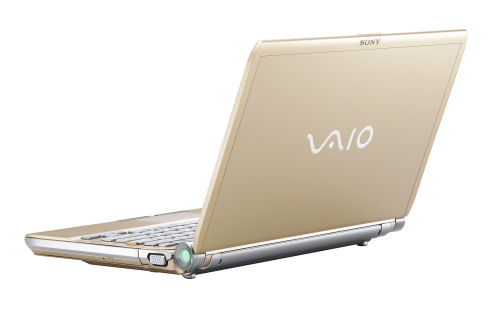 Sony's classy Vaio TT, one option for which is this attractive, pearl-gold tint finish.
The $2,750 TT198 buildout comes with a 128 GB solid-state drive (SSD), though one spec sheet Sony showed BetaNews clearly says it can be decked out with two SSDs, for a total of 256 GB of flash storage. That model could probably send the price over the $3,000 mark. Both TT160s come standard with a 160 GB HDD, though if the form factor is essentially the same, there's a chance that could be paired as well. The TT160 starts at $2,000.
Driving both systems will be Intel's latest Centrino 2 platform processors; and the TT198 could be the critical test of their effectiveness. The TT160 features Intel's Core 2 Duo SU9300 at 1.2 GHz; the TT198 cranks it up a notch with the SU9400 at 1.4 GHz. Both CPUs utilize 3 MB of on-board cache and an 800 MHz front-side bus. Both Vaios will stick with the optimum Centrino 2 buildouts from Intel rather than adding ATI or Nvidia chips. So the chipsets will be Mobile Intel GS45 Express with Intel's 4500MHD GMA integrated graphics, and integrated sound. There's an argument here that, if Sony had tried to go with discrete graphics at this form factor, it could have had problems with overheating...and in recent months, when Sony mixes with overheating, that typically causes something else to overheat: customers' patience.
The TT198 will come pre-installed with 32-bit Windows Vista Ultimate. But perhaps taking a cue from Dell, the 160 will come pre-installed with 32-bit Vista Business standard, but with an option to downgrade to Windows XP Professional.
Elsewhere in the goodies bags for both models, you'll find the "Motion Eye" camera that's on all the other modern Vaio models -- the one that follows your face -- along with built-in microphone, stereo Bluetooth, and an option for Sprint Mobile Broadband. The new chasses are particularly eye-catching, made of lightweight carbon fiber and driving down total weight to 2.87 pounds on average.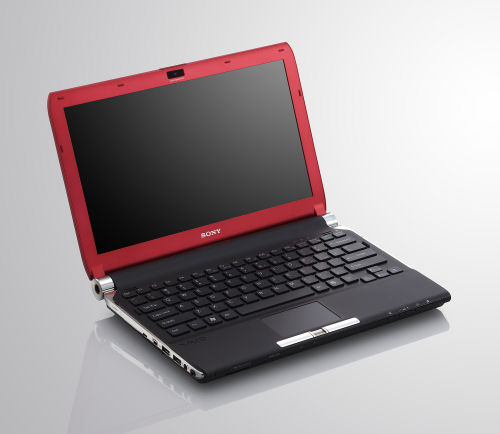 This business-ready Vaio TT also has all the gear an enterprise needs for a Trusted Platform.
Let's be honest: These are "show-off systems," designed with the principal purpose of appealing to people who don't own them yet. While manufacturers including Sony have tried to find a formula for any kind of small system that appeals to a mass market -- especially in this economy -- their mixed results have not always been a good kind of mix. Sony's gamble is that there's still a premium buyer out there, and the inclusion of the TCG platform and the XP downgrade option seems to indicate Sony feels that buyer is an executive, not a gamer, who may be looking for just a little of a business-related excuse to push him over the line and make the purchase. Hopefully, that executive wasn't over-invested in stocks last week.