T-Mobile's new G1 looks promising, if lopsided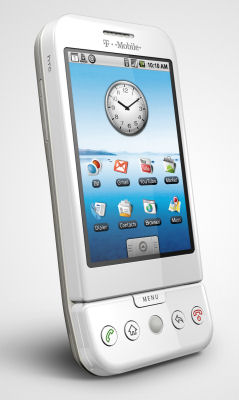 T-Mobile's G1 is without a doubt its most hyped product launch. Practically all the information about the phone was "unconfirmed fact" one month ago, and today's release brings into perspective what the first "open" phone has to offer.
Thanks to FCC regulatory filings, we already know the general design specs and radio arrangement of the G1 (155mm x 55mm, 3.2" 480 x 320 HVGA screen, Quad-band GSM, UMTS, HSDPA 1700/2100, SUPL, 802.11b/g, GPS, non-A2DP Bluetooth). We also found out that at the heart of the G1 is the same CPU that the HTC Touch Diamond carries, the 528 MHz Qualcomm MSM7210A.
The information was so densely packed that a comprehensive list was assembled, (and has since been pulled down) by the AndroidGuys blog. In case you have forgotten since last month, here's the rest of the non-Android features that we found out today: 1 GB onboard memory, expandable by microSD, 3.2 megapixel camera supporting barcode recognition, 5-row QWERTY keyboard and "arc sliding" mechanism.
The chassis' specs are not a grand departure from any of HTC's Touch line, so naturally everything that makes the G1 unique is Google- and Android- related.
Equipped with push Gmail support, a drag-and-drop desktop space similar to iGoogle, and the ability to update messages and calendars through Google's servers, the G1 could pull off all smartphone functions without having a desktop mate to sync with.
It also features Google Maps all the way to the Street View level of detail, the Android Marketplace applications store, and an Amazon MP3 downloader for in-phone music purchases.
Of course, with its strong feature set also come certain incongruities which have garnered the G1 some criticism. The most glaring of these asymmetries are: the emphasis placed on the device's YouTube support, but its lack of a built-in dedicated video player; the emphasis placed on the Amazon MP3 store, but the lack of a 3.5mm headphone jack; and the emphasis on push e-mail but lack of support for Microsoft Exchange. T-Mobile executives reminded attendees of its G1 launch event this morning that it's not really geared for the business user -- at least, not this model.
FOR MORE on the T-Mobile G1:
<!article id="1222182441">T-Mobile Android G1 phones priced at $179, launch Oct. 22 by Jacqueline Emigh
<!article id="1222205193">T-Mobile plans more Android phones after G1 by Jacqueline Emigh
<!article id="1222206519">Google and partners roll out first apps for Android Marketplace by Jacqueline Emigh