New Nintendo DSi handheld to launch in November

After a couple of rumor-heavy weeks, Nintendo will officially release an upgrade to its popular touch-screen handheld game system in Japan next month.
The most celebrated feature of the DSi is its dual-camera setup. One is mounted inside the clamshell, and the other on the outside. With these 640 x 480 "eyes" come the requisite photo manipulation tools, the roots of which Nintendo included with the Game Boy Camera more than ten years ago. Pictures can be merged together, drawn upon, or distorted.
Last November, Pacific Crest Securities analyst Evan Wilson said Nintendo was already developing a DS endowed with a larger screen, thinner profile, and on-board storage in place of backward compatibility with the Game Boy Advance.
As rumors have grown in intensity since that time, Nintendo has never officially denied anything, and today we have seen why: because they were all true.
The screens have increased in size from 3" to 3.25", and the chassis, although becoming marginally bigger overall, has dropped in girth from 21.5mm to 18.9mm. This narrowing of profile is because the GBA slot has been replaced with a side-mounted SD memory slot, a necessary feature to enable the other new additions announced today.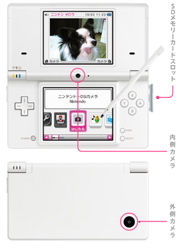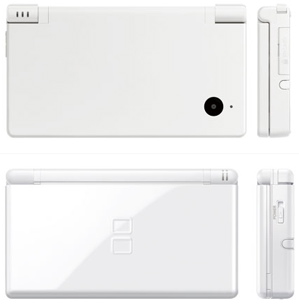 One of these is the audio player, which naturally is delivered with Nintendo's playful attitude, providing the option to alter the playback speed more than 100%. Another new addition where expandable memory is integral is the "DSi Shop," similar to the Wii Shop Channel, where users will be able to purchase downloadable content on a points system. A built-in Web browser is expected to round out the offering.
The DSi will go on sale in Japan on November first for ¥18,900, ($179/€130). No worldwide sales dates have been announced yet, and there is no indication that it will be available before next year elsewhere.