Joost re-launches as a Flash-based movie site

Contrary to earlier reports saying that P2P TV service Joost would release a browser plug-in not based on Adobe Flash, the site has done just that.
Joost has relaunched its free streaming TV service in Flash and intends for in-browser content consumption. Previously, users had to download and install a desktop client to participate; and though interest was high, beta testers expressed disappointment in the service's speed and bandwidth consumption.
In September, Joost issued a statement that said it would be scrapping its stand-alone console and moving toward browser-based delivery, where social sharing options were more fruitful. This message was reiterated today in the staff blog, where it says, "Our new Web-based version lets us provide a deeper social experience than we were able to in our Joost software. With our new social tools, we've come even closer to bridging this gap and bringing the inherently social nature of video into the online world."
However social the site may intend to be, it is still not possible to share videos with non-members, a feature that is now all but standard for other Flash video sites, and brings the ever-important clicks.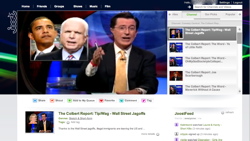 Joost's content has been bolstered too, and it offers shows from Comedy Central, WB, ABC, CBS, Fox, as well as major Hollywood motion picture studios. Though it has more than doubled its available content this year, there does not appear to be anything exclusive to Joost that cannot be found elsewhere, limiting the lure of the site to new users.
Of course, Joost's Mike Volpi says it's just the beginning of the site's evolution. With YouTube's recent move into the already crowded full-length streaming content space, Joost may have to hasten its evolution to get ahead.