New MacBook Pros look a lot like the early pictures

Apple's spotlight on notebooks this morning in Cupertino unveiled the company's newest line of MacBook and MacBook Pro notebooks, proving once again that there is nothing that Apple can make that the blogs can't leak.
The leaked images that have been circulating on Engadget and elsewhere for the last two weeks have been of the new MacBook Pro, which was announced today; likewise, the "brick" term that was thrown around in rumors referred to Apple's new manufacturing process of this chassis, also announced today.
The chassis has received outwardly minor, but innately important upgrades based upon innovations in the MacBook Air. Instead of a constructive process of thin layers of aluminum, Apple took a 2.5 pound "brick" of aluminum and worked through a process of removal, taking away material that wasn't needed.
Also just as rumored, the new MacBooks have a redesigned trackpad. It is now a pressure-sensitive glass surface with no accompanying mouse buttons. Instead, the entire surface is the button, and the multi-touch features now support four-finger gestures. All those who shunned Mac for its one-button mouse will surely take note of its new "no button/all button" interface.
While no dramatic overhauls have been made to the MacBook Pro's CPU, they now come standard with dual GPUs, an integrated NVIDIA 9400M GT which can be relied upon for battery conservation, and an additional 9600M GT for graphics-intensive applications (games, perhaps?).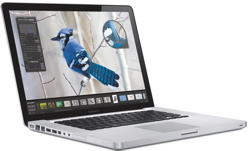 The $1,999 15-inch MacBook Pro configuration includes a 2.4 GHz Intel Core 2 Duo with 3 MB L2 cache, 2 GB of 1066 MHz DDR3 Memory, the aforementioned dual GPUs, and a 250 GB hard drive.
For $2,499, the 15" MacBook Pro can be upgraded to include a 2.53 GHz Core 2 Duo with 6 MB of L2 cache, 4 GB of DDR3 memory, and a 320 GB HDD.
A couple of new MacBook Airs were unveiled today as well, expected to reach retail outlets in early November. The $1,799 13-inch model has a 1.6 GHz Core 2 Duo with 6 MB L2, 2 GB of DDR3 memory, a 120 GB SATA HDD, and a single Nvidia GeForce 9400M. The $2,499 version has a 1.86 Core 2 Duo, and a 128 GB SSD. The big addition to these is the Mini DisplayPort, allowing the MacBook Air to attach simply to an external monitor.
And for those who were expecting Apple to "shatter" the $1,000 barrier, it did happen today, although not with the model some pundits were anticipating.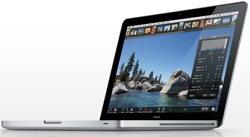 The most popular notebook from Apple, the 13" MacBook -- which typically sells for $1,099 -- got a price reduction to $999.
A new addition was also made to the MacBook family. The newest MacBook looks to be another move in Apple's continuing quest to avoid the environmentally un-friendly badge.
The "greenest MacBook ever" comes in a 13-inch profile, has a 2 GHz Core 2 Duo/3 MB L2, 2 GB DDR3 memory, a single Nvidia GeForce 9400M, and 160 GB HDD for $1,299. A $1,599 version ups the CPU clock to 2.4 GHz and the HDD size to 250 GB, and also adds a backlit keyboard. These similarly offer the new glass trackpad and re-designed chassis. Upgrades include 4 GB DDR3, 320 GB HDD or 128 GB solid-state drive, and DVI, Dual-DVI and VGA output adaptors. These outputs are presented as options because a Mini DisplayPort has become the standard video out on all the new models.
Though there were some minor surprises, the leaks proved to be mostly accurate.