Lala whistles a happy, DRM-free tune

The new Lala music service's great leap forward isn't in offering DRM-free tracks -- it's the acknowledgment that really, 30 seconds isn't enough to know whether you like a song enough to buy it.
Granted, Lala's offering of DRM-free music tracks is clearly another nail in the coffin of the sale of deliberately damaged downloads. But maybe even more importantly, Lala is acknowledging that, really, 30 seconds isn't enough to know whether you like a song -- and it's sure not enough to convince your friends.
Lala's best attribute is also integral to its business model, which has room for both those who prefer streaming (a la Rhapsody) and those who want their tracks downloaded to a device actually in their possession (a la iTunes).
You browse the service to find tracks you'd like to hear and click to play. The first play of any track or album is free -- and the entire track or album plays, not just a 30-second snippet. If you like what you hear, add it to your on-site "web collection" for 10 cents per track and stream it again as often as you wish. If you prefer to download, pay 89 cents and you've got an MP3-format file, with (again) a streaming copy to play when you're online.
Those among us whose music collections are already impressive can tell the service about their hoard with the "Music Mover," and have streaming copies of tracks available free for their use. Veterans of the DRM wars will remember that MP3.com about a decade ago launched "My.MP3.com" -- a service similar to Music Mover -- which led to owner Michael Robertson and his service being essentially sued to a fine paste.
Lala, which launched its major components earlier in the month, is well-organized and well-stocked, with tracks from the four major labels and from nearly 170,000 (!) indie imprints -- about 6 million total, according to the site. Our searches found the collection to be deep, too -- a search for music by Jazz Age chantootsie Annette Hanshaw turned up 51 unique tracks, compared to 70-odd songs on iTunes and 51 on Amazon; ultra-obscure country act Gary Prescott turned up nothing on any service; psychobilly legends The Cramps turned up 73 times, with an approximately equal number on Amazon and around 125 on iTunes.
A few acts (e.g., '90s NYC favorite Valentine Smith) were known to Lala but the tracks were not yet available. Others, such as Gillian Welch, were represented by just a handful of songs. (In that artist's case, it's unclear whether that's a decision by the artist; Gillian Welch is known to be hostile to file-sharing and one supposes the band might object to the service's use of the MP3 format. The artist is well-represented on iTunes.)
Excellent search functionality and sort options give Lala an edge over Amazon, whose MP3 store has never been accused of being too organized. Search results can be viewed by album and arranged by popularity, date, or alpha order. If a particular track has a video on YouTube, the site will let you watch it in a pop-up window, and tracks can be recommended, linked to from outside the service, and gifted to others.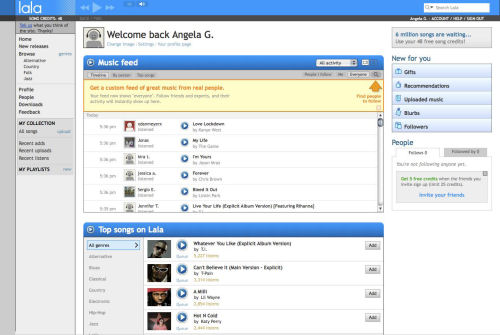 Most interestingly -- and what would a 2008-vintage Web launch be without a serious social-networking component? -- Lala provides the means for you to make your mark with like-minded listeners and to inform your friends as to your state of mind. A function called "Forecast" lets you pick four songs that you're currently in love with. Those songs appear when someone else looks at your profile or, if you install it, your widget on Facebook. Visitors can play the tracks you've selected -- which, for some users, might be a more useful indication of one's state of mind that the one-line Status message could ever be.
If you'd asked most observers of the DRM scene eight years ago if a mainstream music service would feature full-track play, MP3 download, and user recommendations, most would have shrugged and blamed the deep intractability of the music industry at that time. (And six years ago they'd have mentioned the late, beloved AudioGalaxy and burst into tears.) That the Palo Alto-based Lala was able to build its site with the cooperation of all of the major labels and a ferocious selection of the minors speaks well for the accelerating irrelevance of digital right management in the music sphere.