First signs of the Obama administration's technological aptitude

The early choices to lead the transition team for President-Elect Obama not only indicate the diversity of background that he promised during his campaign, but also a continuing attention toward comprehending modern technology.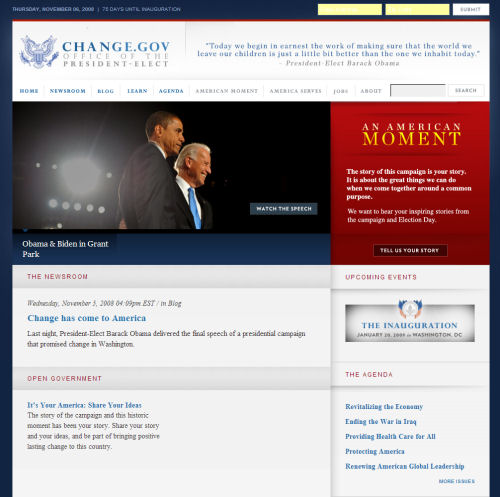 Not quite two days after his historic election as the nation's 44th president, Barack Obama's transition team already has an active Web site. Located at change.gov, it maintains many of the templates used by the Obama campaign, though very quickly tailored for the purposes of maintaining an open forum for citizens to comment on, and contribute to, the process of transition of power in the executive branch.
The leadership of the transition team is already coming together, and right off the bat, the very first choices indicate the same attention to technology literacy that was shown during the long campaign. This afternoon, Rep. Rahm Emanuel (D - Ill.) accepted the President-Elect's invitation to be his White House Chief of Staff. Popular among his fellow Democrats and notorious, to say the least, on the other side of the aisle in the House, Rep. Emanuel has long been an advocate for the creation of a National Institute of Science and Engineering, which would provide government grants to technology research efforts, on the order of the existing National Institutes of Health.
In a 2005 interview with Time magazine's Joe Klein, Emanuel pointed out how the level of funding increases for technology research had fallen behind funding for pharmaceutical research and fighting diseases, staying put at about five billion per year. "I'd quadruple it and concentrate on nanotechnology, broadband, and energy," he told Klein.
He then proceeded in that interview to advocate tax incentives for the use of solar and wind power in an effort to reduce the US' dependence on foreign energy -- a call to action that sounded like a blueprint for about one-third of Obama's later stump speeches.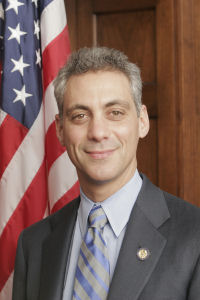 Prior to his election to Congress in 2003, Emanuel served as a senior advisor to former Chicago mayor Richard M. Daley, and later to Pres. Clinton. He currently chairs the House Democratic Caucus -- effectively serving as ombudsman for his fellow congressmen. During last summer's debate over amendments to the Foreign Intelligence Surveillance Act which split his party nearly down the middle on the issue of immunity for telcos, Emanuel sided with Sen. Obama in supporting the compromise legislation backed by Pres. Bush.
"While this bill isn't perfect, the perfect should never be the enemy of the good," Emanuel said at the time. "I applaud the Democrats and Republicans who reached this compromise and produced legislation that deserves support from both sides of the aisle."
Last February, along with Rep. Ed Markey (D - Mass.), Emanuel introduced legislation that would expand government oversight over citizens' health records. It would create an Office of Health Information Privacy and would effectively appoint a "czar" to lead that office, who would report to the Secretary of Health and Human Services. That legislation was reported to committee, from where it has since never emerged.
Also this morning, the Washington Post reported that the co-founder of venture capital firm Rock Creek Ventures, and until recently an executive with Barry Diller's IAC/Interactive Corp., Julius Genachowski, will also serve on the Obama transition team. There, it's being implied, he may assist the President-Elect in nominating new members of the Federal Communications Commission, which Genachowski knows well, having previously served as chief counsel to former FCC Chairman Reed Hundt.
And the Indian press was first to report that Sonal Shah, a former vice president at Goldman Sachs who currently heads up Google's philanthropic division, will also serve the transition team. Shah is well-known in India, where she has assisted non-profit organizations in enabling Indian American students to study and work in India on development projects.