Windows Live gets upgrade, final Essentials release

Microsoft's Windows Live team today formally announced a number of upgrades to the Live platform that constitute its "next generation," a more unified experience across all the services within Windows Live.
Beginning in the coming weeks, existing Windows Live users' home.live.com page will change from the current straightforward (read: Google-ish) list of services to a social, profile-based (read: Facebook-ish) setup where all the existing Windows Live services are tied together with a central update feed.
The homepage incorporates a user's Hotmail inbox with her Spaces profile and a "What's New" feed that shows friend/contact list activity. Activity on third party sites such as Flickr, Twitter, StumbleUpon, Photobucket, and iLike can be linked to the What's New feed, and all of the Live services are more closely tied together. Data from services such as Calendar and Groups, for example, can be integrated into e-mail and instant messaging.
Also, the Windows Live Essentials "Wave 3" betas will soon be coming to an end, with the final release of the lightweight software that includes: Mail, Writer, Movie Maker, Photo Gallery, Messenger, Toolbar, and Family Safety. This will finally end the over two year long testing period of the Essentials suite.
---
Before: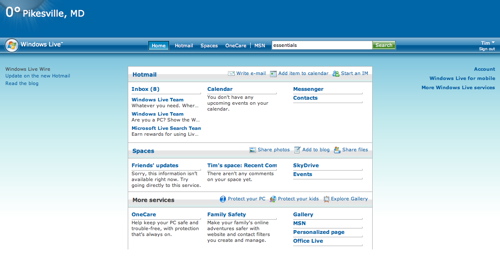 After: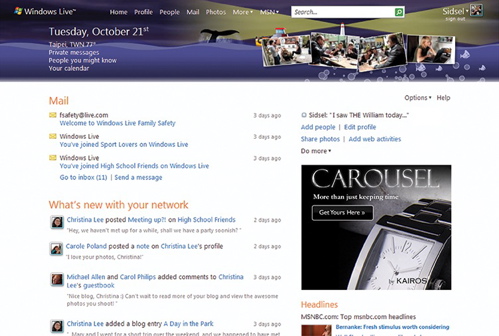 ---
Microsoft says the rollout will begin in the US in the coming weeks, and then will be launched in 48 languages and 54 countries in early 2009.