Russia beats the US to an HTC 4G WiMAX phone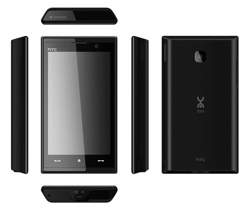 In an exclusive deal with Russian carrier Scartel's Yota network, HTC has premiered its first GSM/WiMAX handset, indicating how rapidly the evolution of the world's communications infrastructure may be leaving the US behind.
Logically called the MAX 4G, HTC's Windows Mobile 6.1 device offers a 3.8" (800 x 400) WVGA tactile display with the company's TouchFLO 3D user interface, the UI of HTC's Touch Diamond, Pro, and HD devices.
The HTC MAX 4G is powered by a Qualcomm ESM7206A 528 MHz processor, 8 GB of storage, Tri-band GSM/GPRS/EDGE 900,1800,1900, 802.11b/g, Bluetooth 2.0, GPS, 5 Megapixel primary and VGA secondary cameras, a 3.5mm headphone jack, and accelerometer controls.
<!external href="http://www.yota.ru/ru/">Yota is the first Russian Mobile WiMAX network, deployed in Moscow and St. Petersburg, areas with a total population over 20 million. The total coverage area is about 1,207 KM and consists of 150 base stations in Moscow and 80 in St. Petersburg. The network operates on IEEE 802.16e-2005 standard in the 2.5-2.7 GHz frequency range, and promises speeds of up to 200 Mbps. Scartel expects the Yota network to include over 1000 base stations by the end of this year.
In addition to high-speed wireless internet, Yota's Mobile WiMAX network supports VoIP and IPTV. Yota TV already has 14 mobile TV channels, and promises a total of 23 by year's end. Additionally, the HTC MAX 4G supports TV-OUT functionality.