AT&T to offer LG's next Windows-based 'iPhone killer'

On the eve of availability from Verizon Wireless of the BlackBerry Storm, AT&T -- the exclusive provider of Apple's iPhone in the US -- has announced a Windows Mobile-based phone from LG with a now-familiar profile.
Korean phone maker LG Electronics today bore out industry rumors about internal development of an "iPhone killer." But in an unusual twist, the Windows Mobile-based Incite phone will be available through AT&T, the company which is also the exclusive wireless service provider for Apple's iPhone in the US.
While LG had previously sold touchscreen phones into the US market, the Incite will be the company's first major US release to run Windows Mobile, and also its first major US release to provide iPhone-like features such as Wi-Fi and location-aware driving directions.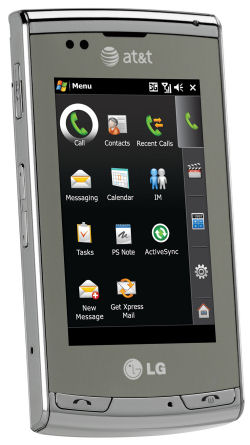 LG had previously issued a Windows Mobile-based smartphone called the KS20 into the European market. A US edition of that phone made an initial appearance on the FCC site late last year, feeding rumors among bloggers of an impending Windows-enabled "iPhone killer" from LG for the US.
Meanwhile, unlocked versions of the KS20 have also been available on the Web and in stores, at pricing ranging from about $275 to $340.
But AT&T will offer the Incite phone at a more attractive $199.99, after rebate, with a two-year contract -- the exact same deal it's offering for Apple's iPhone.
The pairing between AT&T and LG comes barely two weeks after LG issued a statement pledging "continued strategic collaboration" with Microsoft during a trip by Microsoft CEO Steve Ballmer to South Korea. LG and Microsoft had also collaborated in the past on projects such as a Windows Mobile-enabled version of a Chocolate phone for the Korean market.
Verizon Wireless, a major rival to AT&T, is expected to soon start selling a different "iPhone killer" -- the BlackBerry Storm from Research in Motion (RIM) -- at a similar price point.