Europe's ambitious 'single access point' for cultural media provides porn

In an effort to build national and multi-national pride in the cultural, artistic, and literary products of Europe throughout its vast history, the EC this morning cut the red ribbon around Europeana, its central online library.
Problem is, when you declare something "open," people do tend to come in. As of mid-afternoon GMT (mid-morning on the US East Coast), Europeana's would-be one-stop-shop for the vast collection of literary material considered the collective property of Europe's many peoples, was either completely unresponsive or too slow to be useful, perhaps due to an influx of traffic. Even pings timed out to the site's Netherlands-based IP address.
An estimated two million items, including digital books, audio recordings, and film records from each of the European Union's 27 member countries, is expected to be accessible through Europeana. Among those items is a recording of the opening ceremonies, which will apparently wait along with Shakespeare, Kazantzakis, Hugo, and everyone else for traffic to clear up.
As it turns out, the classics may not be what the library's inaugural day users are tuning in for.
In one test case, after turning off automatic timeouts on our test system, Europeana did manage to produce a partial page, which quite literally bore an almost apologetic message in the upper left corner, "we are in beta!!" Then, without us doing anything else whatsoever, its sample of "art" included two digital scans of da Vinci's Mona Lisa, interspersed with a work of art...that we cannot reproduce on BetaNews, not without offending the teachers at my daughter's school where BetaNews is often read.
In a second case on a separate test system, after 12 minutes of loading time, Europeana's front page provided the following bold explanation: "This is Europeana - a place for inspiration and ideas. Search through the cultural collections of Europe, connect to other user pathways and share your discoveries."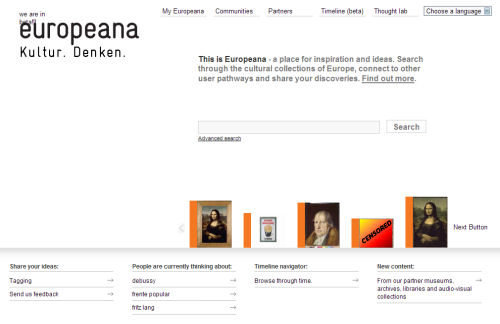 Discovery number one on Europeana's list -- and I wish I were making this up -- is a link to a video produced apparently in the 1980s by a fellow who calls himself Ugly George. The video takes place on the streets of New York City, features Americans, and is apparently devoted to the topic of denigrating women.
While my first thought was perhaps that the europeana.eu domain had been possibly hijacked by some enterprising prankster -- and I do have to admit, that's what Euroepeana.eu really does look like as of Thursday morning, a prank -- the Ugly George video truly was being hosted by one of Europeana's principal content providers, the French-based INA.fr, as part of an online exhibit it calls "TV porno."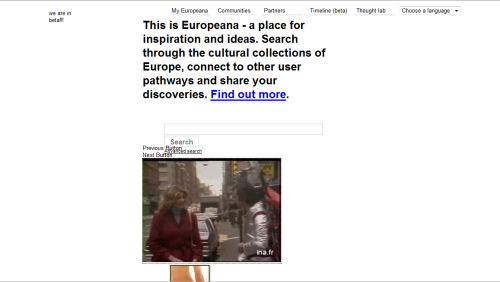 Other items from this particular front page that are also being hosted by INA.fr include, simultaneously: more scans of the Mona Lisa, pages from Gutenberg bibles, an exhibit of various Levi's jeans ads that feature nudity, examples of softcore porn shown on French television through the ages (another exhibit), and excerpts from that gripping peace of European folk literature, Adolf Hitler's Mein Kampf.
One of Europeana's principal backers has been Commissioner Viviane Reding, who is the public face for the continent's efforts to establish a new identity for itself around a "digital society." BetaNews readers will recall Comm. Reding as the lady who has spearheaded efforts toward a mobile digital TV standard for Europe, though when businesses choose what she has considered the wrong standard, publicly chides them for doing so and steers them toward what she has proclaimed the right path.
In a statement released this morning, Comm. Reding said, "Europeana offers a journey through time, across borders, and into new ideas of what our culture is. More than that, it will connect people to their history and, through interactive pages and tools, to each other... We should make Europeana a home for interactive creative participation at the fingertips of people who want to mould their own piece of European culture and share it with others. My objective is that in 2010, Europeana will include at least 10 million objects."
In an interview published yesterday by the International Herald-Tribune, Reding credited France with providing half the content for the charter service, citing as one example, "The collapse of the Berlin Wall is illustrated with a French TV documentary." She then credited Germany with getting its act together, in her terms, for its contribution to the digital library.
When asked whether it is Europeana's intent to compete with Google, Comm. Reding said certainly not, noting that by contrast, Europeana is organized more by category. "If you put Chopin into Google," she told the IHT, "you get several hundred thousands of examples -- in chaos. You don't know what is right and what is wrong."