Mozilla makes Firefox 3.1 Beta 2 available

---
Download Mozilla Firefox 3.1 Beta 2 for Windows (all versions) from FileForum now.
---
The public beta of Mozilla's first Web browser to incorporate a private browsing mode, is being made available to the general public today, although as before, the organization has yet to make it official.
Firefox 3.1 Beta 2 does feature private browsing mode, in the no-frills packaging that developers have promised. In this mode, browsing history, cookies, and other traces of where the user has been, are not recorded for the duration of the session. In our earliest glimpses of this feature under Beta 2, we've found it to be functional; and it was actually working quite well in some of the earlier private developer builds.
There had been some discussion about how to characterize private browsing as an icon. As of Beta 2, Mozilla's artists have chosen to go with a clever, 19th century formal mask icon, like something you'd find in a masquerade ball. This could help the feature evade its current characterization elsewhere in the press as "porn mode." When the user is first notified, she'll see a "Clear Browsing History" button that will also help her erase some traces of pages she may have discovered earlier, that led her to decide to go private now.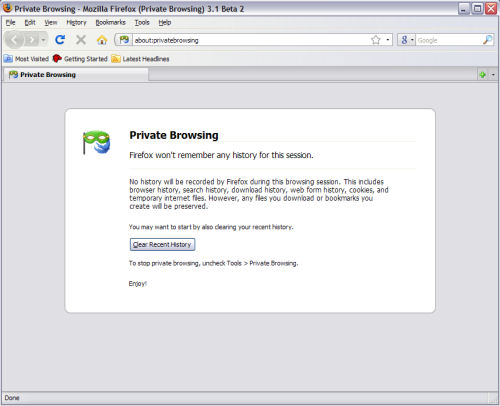 One other feature that could make v3.1 very important for Mozilla, however, does not yet appear to be online. That's the new TraceMonkey JavaScript engine, which is supposed to expedite Web functionality by orders of magnitude. We tested Firefox 3.1 Beta 2 in one Windows XP Professional-based virtual machine against Firefox 3.0.4 in a separate VM on the same physical host, and thus far, have been unable to detect serious speed differences between the two.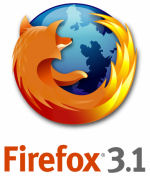 We have noticed an improved Acid3 test score over previous builds, however: up to 93% from 89% for an internal build last October. The Acid3 test helps determine whether a Web browser renders pages in accordance with methodologies set by the major Web standards agencies and the development community. Last week, the latest Alpha build of Opera 10 scored a perfect 100% on the Acid3.
A potential bug we may have noticed: At least for now, our copy of 3.1 Beta 2 -- after having launched successfully the first time -- will check for updates to itself (which is proper), find Firefox 3.0.1, and try to install that over itself (which is not proper).
---

7:00 pm EST December 8, 2008 -
Early Monday evening, the Mozilla organization made official the release of Firefox 3.1 Beta 2. TraceMonkey, the company's new JavaScript engine, does premiere in this edition, and is turned on by default.
Our tests earlier today did not show any measurable performance difference in the JavaScript department between Firefox 3.1 Beta 2 and Firefox 3.0.4 in virtual machines. The extent of performance improvements for physical machines may yield different results, and we'll test that for ourselves soon.