From LG to 4G: The first LTE phone chipset

At a research facility in Anyang, South Korea this morning, LG unveiled its Long Term Evolution (LTE) chipset, which it claimed is the first designed to provide mobile handsets with 4G connectivity.
The company claims the new 4G technology could provide downlink speeds of 60 Mbps and 20 Mbps and higher.
Last month, Sandbridge Technologies announced its baseband processor supporting LTE (PDF available here); and earlier this year, Ericsson showed what it claimed was the first LTE solution, its M700 platform, promising speeds of 100 Mbps down and 50 Mbps up. The company actually specified that the M700's place would be in notebooks and netbooks, and not in mobile phones. Notebook computers only recently began employing 4G technology, with several companies offering built-in WiMAX modems, currently the only standard available in the US 4G wireless market.
Though WiMAX has a long lead on LTE in terms of hardware support and completed deployments (translation: it actually exists in the market), LTE still has some crucial supporters backing it. Separately, Verizon Wireless and Alltel chose LTE as their 4G network standards. Now that the Department of Justice and the Federal Communications Commission have both approved the $28 billion merger of the two companies, the resulting entity will be the single largest mobile carrier with the most widely spanning network in the United States.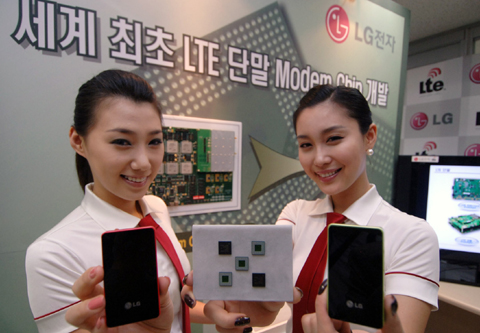 Representatives from LG Electronics show off their new LTE chipset for handsets and mobile devices, at a trade event in South Korea. [Courtesy LG]
Unfortunately, support from the largest network and availability of platforms upon which to build LTE devices has amounted to very little thus far. The LTE standard may only receive its first formal ratification later this month, and no LTE radios yet exist. Backers of the standard know that it will be years before the first LTE network even begins small-scale operations.
Furthermore, Ben Wolff, CEO of Clearwire, has publicly said his company's joint project with Sprint Clear (formerly known as Xohm) will adopt LTE if it becomes a widely-supported standard. "If LTE truly becomes a global standard, as WiMAX has, Clearwire will be well positioned to provide LTE," Wolff remarked.
The Clear project has thus far successfully deployed WiMAX networks in Baltimore, Md. and Portland, Ore.