Microsoft accelerates in 2009 with RC1 of IE8

---
Download Internet Explorer 8 Release Candidate 1 for Windows Vista and Windows Server 2008 from Fileforum now.
---

In the clearest sign to date that the company's roadmap really is being fast-forwarded, Release Candidate 1 of Internet Explorer 8 -- a critical component of Windows 7 -- was released this morning.
Microsoft's pledge to make IE8 behave according to generally accepted standards, will mean that many sites will have to behave differently than ever before. Up to now, many sites have chosen to structure their code around the default behavior of IE6 -- the last version designed to be non-compliant by default.
But just how well those sites have to behave has been a moving target since the IE8 beta process. Now, one of the browser's engineers said this morning, the company is ready to call a halt to any additions to its standards compatibility, so sites' engineers are now free to start making the changes they'll have to make to ensure they can still be read.
"The technical community should expect the final IE8 release to behave as the Release Candidate does," reads a blog post from team general manager Dean Hachamovitch this morning. "The IE8 product is effectively complete and done. We'll post separately about the thousands of additional test cases we're contributing to the W3C. We've listened very carefully to feedback from the betas. With the Release Candidate, we're listening carefully for critical issues."
In Betanews tests this afternoon, we were happy to discover that the new Betanews front page renders perfectly well in IE8 RC1 without the need to turn on "Compatibility Mode" -- the fallback mode that the browser now uses for sites that haven't changed to reflect general standards. Our old design, as we noted at the time, failed standards mode miserably.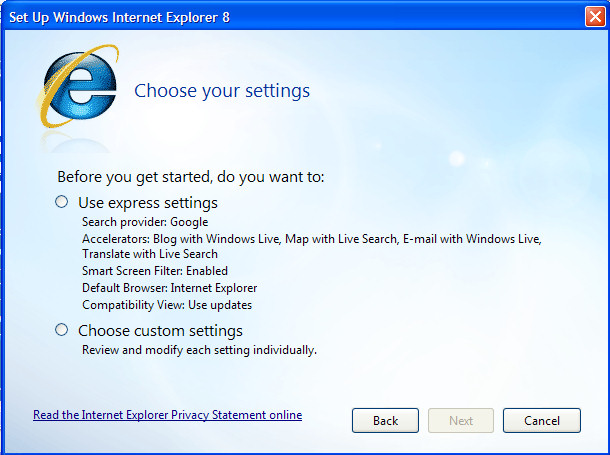 We also noted that when IE8 was installed in a system where IE7 was previously installed, as Microsoft promised, it acquires all of IE7's preferences as "express settings" even when they don't refer to Microsoft. Most importantly, when our previous default search provider was Google instead of Live Search, the browser's default search choice was shown as Google.
Our first reader to review RC1, kindbud1, reported having trouble with the installation process. "First you have to download nearly 20 MB, uninstall, install, and reboot," the reviewer wrote. "But then upon restart, you have to run something else... which downloads another mystery package...and puts you through a second install process (during which you cannot do anything else with your machine)...and then it automatically reboots a second time! Oh, and of course you have to completely reconfigure the thing the first time you try to run it."
This was not our experience. On our virtual Windows XP Professional SP3 test system, we were able to download a 16 MB package, run the installation program, have it download updates to the system, reboot once, and then run IE8 RC1. However, our test system had recently been updated with security packages from Microsoft, and we also had Service Pack 3 already installed. Conceivably, kindbud1's test system may not have been similarly updated prior to installation, which would explain his having to reboot and download a "mystery package."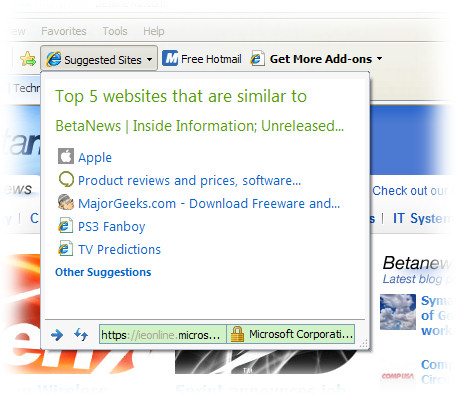 One of IE8's new features suggests to its users other sites "similar" to the one you're currently looking at, based on assimilated data in Microsoft's online search engine. We were particularly interested to note that the Web site that Microsoft believes to be most like Betanews...is Apple.
As always, the question that many of you repeatedly ask...How standards compliant will IE8 be, really? If what Hatchamovitch is saying is accurate about standards mode being written in stone now, the news isn't very good.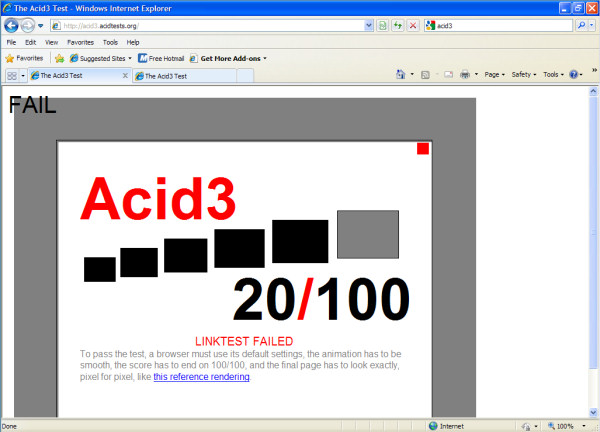 A 20% score out of 100% on the generally accepted Acid3 test is certainly not what the Web Standards Project would consider to be "in the ballpark." For the heck of it, we tried the same Acid3 test in IE8 RC2's compatibility mode, to find it actually didn't score that much worse: 14%.
---
Download Internet Explorer 8 Release Candidate 1 for Windows XP from Fileforum now.
---