House Republicans invoke bin Laden to expedite DTV transition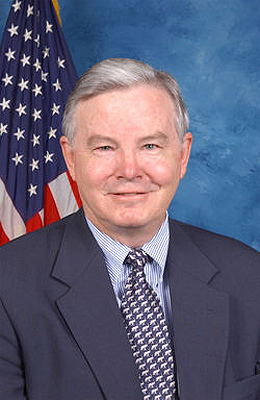 "Osama bin Laden isn't fictional, and he isn't waiting," stated Rep. Joe Barton (R - Texas), in a vehement defense of the February 17 hard date.
The postponement of the US' digital TV transition to June 12 hit its first serious legislative obstacle yesterday, when Republicans led by the former Energy and Commerce Committee chairman and current ranking member, Joe Barton, debated the DTV Delay bill for the first time on Capitol Hill. Yesterday, Barton and colleague Rep. Cliff Stearns (R - Fla.) began their counter-assault with a letter (<!external href="http://republicans.energycommerce.house.gov/Media/File/News/1.27.09_Letter_to_Speaker_Pelosi_Regarding_S-328.pdf">PDF available here) to House Speaker Nancy Pelosi (D - Calif.), urging her to reconsider even bringing the delay bill to the floor for a vote.
"Turning to the merits of the bill -- there are none," Barton and Stearns wrote.
"Our public safety sector has been pleading since 1996 for access to the broadcast spectrum that would be freed up by the DTV transition, and which they need desperately for emergencies like 9/11. Instead, they've become like the fictional refugees who got as far as Casablanca in the '40s, only to 'wait, and wait, and wait,"' the representatives continued. "Osama bin Laden isn't fictional, and he isn't waiting. That should be reason enough to go full speed ahead with the DTV transition. Instead we're suspending the rules in order to wait, and wait, and wait?"
The rule's suspension to which the Reps. referred concerns a move by Barton's most recent successor at Commerce, Rep. Henry Waxman (D - Calif.), the bill's current sponsor. Rep. Waxman apparently worked with Speaker Pelosi to suspend the usual rules in which the bill would have debated in committee during a markup session this week. That suspension fast-tracked the bill, so it could be debated on the House floor without alteration.
By bypassing the rules, apparently backers of the bill are also allowing themselves to consider an additional $650 million in funding by way of the current economic stimulus package being debated in both houses of Congress. This stimulus incentive would apparently include printing of even more coupons -- something which would clearly have met with opposition from Ranking Member Barton.
With regard to the waiting lists that recent applicants for converter box coupons have been subjected to, Reps. Stearns and Barton argue that extending the conversion date to June 12 would simply enable the list to persist longer. Barton is introducing a counter-measure to the House floor (whose text has not yet been made public), which he says will focus on the actual problem: expediting the coupon redemption process which may affect an estimated five percent of the US population.
Meanwhile, public safety officials would be prevented from making use of the vacated analog TV spectrum for first response communications -- which is what led to the Reps.' reference to terrorists.
While the current bill would not prevent private broadcasters from going ahead with the transition in the meantime if they so choose, public broadcasters that receive government funding, and other smaller private stations, will most likely wait until the last possible day. That may actually lead to a dangerous situation for some stations that have not invested in repairs to their aging analog transmitter equipment, under the belief that they may not be necessary after February.
This morning, NPR station <!external href="http://www.wbur.org/news/2009/82871_20090128.asp">WBUR Boston reported on a Spanish-language Univision affiliate there whose analog transmitter equipment is on the brink of disintegration. If it doesn't make the switch right away, a repair to the analog signal could cost the same amount as a station employee's entire annual salary. Meanwhile, Boston PBS TV affiliate WGBH, the NPR station reports, estimates that station could spend well into the six-figure range if it's forced to extend its analog signal by way of setting some kind of example. That station has already cut a dozen workers, and may have to let more go, it says, if the bill passes.
That sentiment was echoed this morning by Rep. Greg Walden (R - Ore.), <!external href="http://www.tvweek.com/news/2009/01/house_delays_dtv_vote_until_we.php">who is quoted by TV Week as saying that stations in his home state could spend as much as $1 million each in expenses to extend their analog signals past February. Again, the current bill allows stations to go ahead and make their switches before June if they wish, but that may be over the warnings of legislators who would prefer everything take place in tandem in order to avoid confusing the public.
"Further delaying the DTV transition deadline will confuse consumers without clearing the waiting list," wrote Reps. Stearns and Barton, "jeopardize public safety and wireless broadband spectrum, cost broadcasters and industry a fortune in additional preparations, and engender further spending of at least $650 million in the stimulus package to pick up the pieces."
Further debate on the bill will continue in the House today, where it is expected to come to a vote before the end of today's docket.