The new deal for Windows 7 testers

In what appears to be a deadly serious effort to expedite the rollout of its next operating systems, Microsoft has opened some of its developer support tools to a broader audience of partners.
One of the major shortcomings of Windows Vista that Microsoft has quietly, though plainly, acknowledged in recent months concerned the company's relative inability to engage partners in the development process. With a respectably long development cycle, there were too many third parties that complained that they couldn't get their drivers to work right, well after the operating system had already launched.
And by that time, it wasn't just the partners who were complaining, but also their customers.
In an attempt to rectify that problem -- in an effort that has the signature of Mike Nash written all over it -- Microsoft yesterday unveiled a new and separate home page for the Windows 7 and Windows Server 2008 R2 beta programs, that is an extension of the company's existing Connect program -- its outreach to interested parties beyond the paid subscribers to MSDN and TechNet. (A separate link for hardware engineers now appears on Hardware Developer Central.)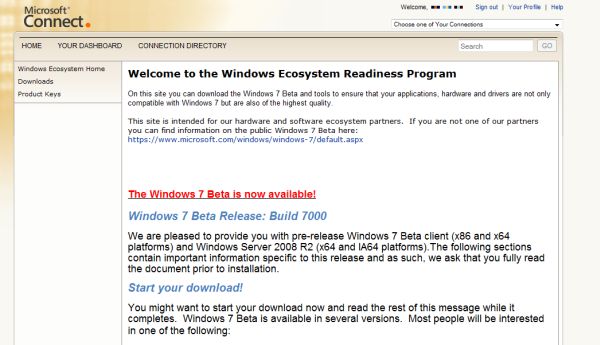 Windows 7 has a new feature which could either work splendidly or be one of Microsoft's more notable disasters -- nothing in-between -- depending on how soon partners take up the cause of developing and testing new drivers. In the latest build, that feature is called Device Stage, and its goal is to enable users of smartphones, digital cameras, and other USB devices to plug into Win7 and see their exact models show up on the desktop -- maybe even in 3D, if all goes well -- along with instructions tailored specifically for those devices.
Naturally, this feature won't make sense to users if partners don't start building device drivers to spec. This is why the new Ecosystem Readiness Program site (with the unfortunate acronym ERP) contains links to a newly refreshed Windows Driver Kit. In coming weeks, the HDC version of the site reports that the company will be adding Win7 testing labs in Redmond, with more locations to follow, for partners to work directly with the company in ensuring that applications and device drivers work as projected.
When Corporate VP Mike Nash spoke to us last October at PDC 2008 -- when the first preview release of Win7 was just being distributed -- it was clear then that this new program was part of his plan to remake the Windows rollout. "One of the things that we're really excited about today is that the build that we distributed to folks is not feature-complete, but API-complete," Nash told us. "So our ecosystem partners can get a chance to start learning about Windows 7, and then start building for Windows 7. And then when the beta comes, it'll be feature-complete, which means the things that happen post-beta are bug fixes and edge conditions, versus adding features and making the ecosystem deal with new things."
With the beta build 7000 now here, it's clear that Nash's plan is to learn from Vista's mistakes and not repeat them with Win7. In a prepared Q&A released yesterday afternoon, Nash remarked, "When we've discussed new versions of Windows in the past, we typically shared ideas as if they were final. Sometimes things would shift, which could make it difficult for partners to plan when they should begin developing products. We've learned a tremendous amount from these experiences. In response we changed our approach to Windows 7, engaging with our partners early and planning with them in a more systematic way. We had the opportunity not only to watch how our partners were using and developing for Windows, but also to get their input on what was important to them.
"Based on this approach," he continued, "we were able to prioritize the things that developers cared about, and share an application programming interface (API)-complete version of Windows 7 at [PDC]. We held the [WinHEC] in November as well, and took the event to Asia to reach our partners in Beijing, Taipei and Tokyo. We followed this momentum by delivering a solid and stable beta version at International CES earlier this month. What this means for partners is that they can confidently invest and start testing now because the Windows 7 beta will have the same API set that they will see in the final release."
The HDC version also contains a link to the version 1.3 document for the Windows Logo Kit, which contains the minimum requirements for an application or driver to be given the "Compatible with Windows 7" logo. This year, there appears to be only one tier for the logo program, not three, not two. That's another Vista mistake that Microsoft appears to have learned from.