Windows 7 testers should upgrade their IE8

The first release candidate for Microsoft Internet Explorer 8, released last month, addressed a number of technical behavioral issues that, according to IE8 Program Manager Herman Ng yesterday, included some serious crashes and system hangs. That's normal for even a public beta like IE8 Beta 2, and the new Crash Recovery feature in RC1 addresses 94% of these "reliability problems," Ng said, albeit with what could be for many testers a very well-used safety net.
But what about Windows 7 beta testers? The IE8 release candidates currently available are for Windows Vista and Windows XP, separately. Microsoft decided it would be a good idea to address their concerns as well, so yesterday, it begain issuing a "reliability update" for its version of IE8. This doesn't make its IE8 a "release candidate for Win7," though it does roll up the various fixes implemented in the Vista and XP RC versions.
"We found that approximately 10% of customers who had downloaded the Windows 7 Beta had experienced some type of reliability problem in IE8," Ng wrote. "We also found that a small number of users were experiencing crashes on a more regular basis and that about 1.5% of all Internet Explorer sessions had encountered a crash. This is relatively good for a pre-release version of Internet Explorer running on a beta operating system."
Good, but not great. Ng's data showed that, over the last 30 days, about half of all Windows 7 crashes being automatically reported to Microsoft were being caused by IE8. Issuing an "RC for Win7" would be wrong on two levels: First, Win7 is not an official product; it's a moving target with a variable code base. Second, it would introduce a factor into more clinical tests that would not be associated with something a real-world Windows 7 buyer would be likely to encounter. In other words, imagine this banner: "Welcome to Windows 7! To begin your experience, download a safety net for Internet Explorer 8 crashes now!"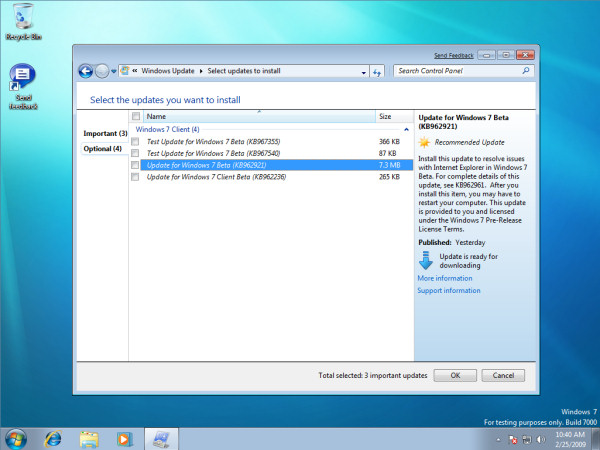 So Microsoft is issuing its IE8 fix to Win7 testers today in a more clandestine manner, almost slipping it under the table. We dug around through Windows Update this morning on our virtual test Win7 system (not the same one we concocted by updating Windows XP), and we located the IE8 Reliability Update, though not under "Important." In fact, it's listed as "Update for Windows 7 Beta," with the only mention of IE being in the description.
We also checked this morning to see whether a similar rollup is being issued for testers of Windows Server 2008 R2, and we were surprised not to find one.