Fan fake or leak? Another Zune HD image surfaces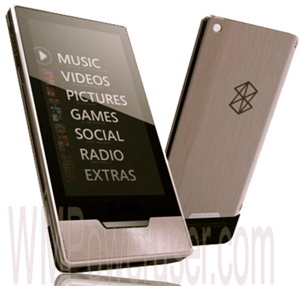 Another promotional shot of the Zune HD has leaked out, this time to <!external href="http://wmpoweruser.com/?p=4120">Windows Mobile Power User, fleshing out the appearance of Microsoft's newest PMP a bit more, and revealing a few more details.
According to the report, the Zune HD is equipped with a capacitive OLED screen that supports multi-touch and offers a 16:9 aspect ratio. Further, the device and updated Zune Marketplace will offer HD media and support for "3D Xbox games." The report claims that the visible port on the side of the device is an HDMI out, but that looks to be mostly wishful thinking, since the device's slim profile leads one to believe it is actually Micro USB.
All specs, and even the image itself, have been subject to <!external href="http://www.zunited.net/news/index.php/zune-hd/76-zune-hd/323-new-zunehd-images-review">scrutiny by fan sites. While the image has passed through most critics' filters, the specs have not, and should be regarded as simply conjecture based upon the appearance of the device and what is currently known about it. All other guesses aside, if the device does in fact offer a capacitive multi-touch screen, that alone is a big deal.