More speed to come from the first Firefox 3.6 alpha

While awaiting the first public (non-nightly build) copy of Firefox 3.5 Beta 4, we noticed this week the first nightly alpha build of the Mozilla browser to come afterward: the first 3.6 Alpha 1 builds. In Betanews initial performance tests of some of Mozilla's very latest code, there's a lot of room for encouragement: The latest code-name "Minefield" build posted 11.7% better performance overall than the last code-frozen nightly build of Firefox 3.5 Beta 4, and 232% the overall performance of the latest Firefox 3.0.9, released just yesterday.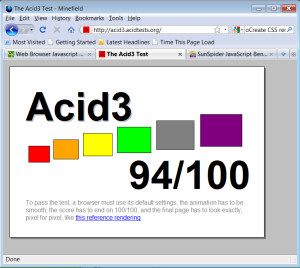 Our tests pit the latest Windows-based Web browsers in a virtual Vista system, and combine the Acid3 standards test with three trusted performance tests for CSS rendering and JavaScript speed. Nearly all the early news for the 3.6 alpha was good, including posting Mozilla's best-ever score on the Acid3 test -- a 94% -- and posting a Betanews cumulative index score for the first time above 10.0, which means this alpha performs over ten times better than Microsoft Internet Explorer 7 (not the current version, IE8, but the previous one).
This news comes as we also noted that Google's latest bug-fix update build 172.8 for its Chrome 2 series browser (Chrome 1 is the release version, Chrome 2 is the beta) slowed down over version 172.6. Still quite fast, but now at an index score of 13.07, Chrome may see something coming up in its rearview mirror, as the latest Minefield score of 10.14 pulls Mozilla's browser to within the 25% range of Google's speed. With Google's release build not yet scoring a 12, it's conceivable that the final Firefox 3.6 could pull even with Chrome 1 while Google keeps working on tuning Chrome 2.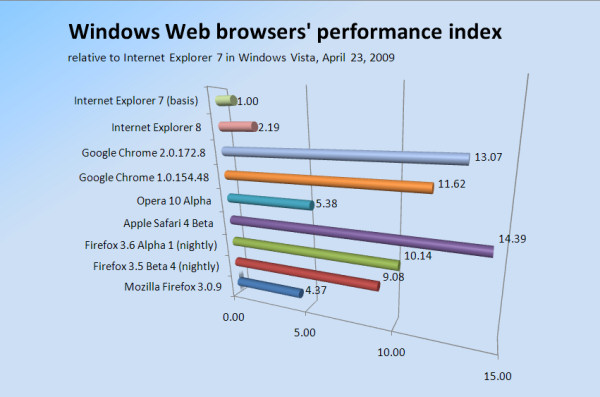 It's not so good news for users of the release builds of Firefox 3, as the latest 3.0.9 actually slowed down a bit overall. While 3.0.8 had scored a 4.7, 3.0.9 only scores a 4.37.

Once we stop tinkering with the accelerator pedals for a minute or two, we might get a chance to play with some of 3.6's new features. We did stumble across one of them right away: When clearing your history and the contents of the browser cache, you can now specify generally how much time you want to wipe clean -- the last hour, two hours, four hours, today, or everything in the cache. Now, at the moment, this comes at the expense of specifying what you want to wipe clean -- history, cache, cookies, passwords -- but perhaps the team is looking for a way to integrate those choices into the new setup.