Office 2010 Technical Preview to arrive in July

In a presentation to TechEd attendees this morning, Microsoft Senior Vice President Bill Veghte announced that the first versions of the Office 2010 suite to extend beyond the company's doors will be offered to selected Technical Preview candidates. Following up on the news, the company lifted the lid on a Web site that appears as though it was supposed to have been launched tomorrow, with a custom movie trailer and countdown clock that borrows visual elements and other catch-phrases from...well, from a handful of real summer blockbuster movies.
"The future begins now," rings a vaguely familiar bell. The arrangement of the characters in the graphics should recall some Terminator images. And "Countdown to the Beginning of Awesome" may be a stretch, but it harkens back to one of the best lines in Bolt.
In any event, the first Technical Preview should be available in about seven weeks, representing the buildout of the Office Professional Plus tier. Both 32- and 64-bit versions will be released, for Windows 7, Vista, and XP SP3 -- so the company is not dropping support for XP users yet, in news that garnered some of the only applause of the day during TechEd's keynote. The Preview should follow the general buildout of the Professional Plus tier, which includes Word, Excel, PowerPoint, Outlook, Access, Publisher, and Accounting Express. The current version of that SKU omits OneNote as well as Groove and InfoPath (Enterprise level components), though we could see some changes to that buildout come July. Visio is omitted from the suite as well, though a separate Preview version will also be available come July.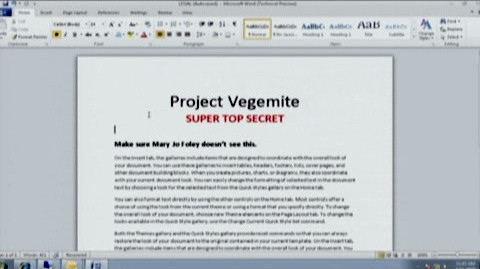 During the morning keynote, attendees caught an early glimpse of Word 2010, as part of a demo by Windows Server 2008 R2 General Manager Iain McDonald. Ostensibly, the demo was about new additions to Windows Search 4.0 in WS2K8 R2 that looks for "Confidential" and "Top Secret" information inside documents and contextually hides them from public view. But McDonald took a brief stop at Word 2010 to show off an example document where such information could be found. If you'll look closely (this still is from the video, which was a little grainy), yes, you'll see where McDonald included a little memo to fellow employees to keep this document from Mary Jo Foley's unblinking eyes.
Elsewhere in this program, however, we're noticing few cosmetic changes to the new workspace, which may be a welcome fact for folks who didn't take kindly to the sweeping changes in Office 2007. The round "Office button" in the upper left corner is gone, replaced with a boldly-colored tab that represents the active Office component -- Word's will be dark blue, Excel's green, PowerPoint's red, and Outlook's gold, just like on the packaging. The Quick Access Toolbar has been shifted to the left a bit, but otherwise, the ribbon layout has stayed very much the same, as well as the status bar layout along the bottom. The Silver layout scheme remains dull and monochromatic.
So not nearly as bold or as flashy as Microsoft's marketing scheme, which frames Office 2010 as a hero on a par with Iron Man. Interested testers may sign up to be notified by Microsoft on a first-come/first-served basis as to whether they may participate, from a link on the new "Movie" Web site below the gripping trailer (Microsoft forgot to mention it was approved for all audiences).