A rocky start for Nokia's Ovi Store

Fulfilling the promise it made in February, Nokia has opened its Ovi Store to most of the world before the close of May. Users of any of 50 different Nokia handhelds can either download the Ovi Store mobile app by selecting the icon in the device's Download Folder, or by navigating to store.ovi.com in their browser.
Like the app stores of competing devices, The Ovi Store offers both free and paid content such as games, videos, podcasts, productivity tools, as well as web-based and location-based services and applications. Apps can be purchased either through operator billing or through direct credit card billing.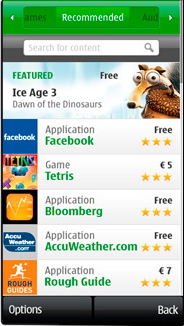 Currently, carrier billing is only available in Australia, Germany, Ireland, Italy, Russia, Singapore, Spain and the UK. It is not yet available to United States users, but today AT&T announced that it will be opening the Ovi Store to US customers "later this year."
Though many Nokia handsets are supported, the site breaks down apps into five device profiles: 5800 XpressMusic, 6300, E71, 8GB N95, and "Any Phone." And since the Ovi Store was built from the foundations of other Nokia services, such as Download!, WidSets, and the now-defunct MOSH, there is already a sizable catalog of available content.
Users of these services, however, have noted that among this content, there is almost nothing new and exclusive, referring to it as "mostly crappy wallpapers and ringtones." Further aggravating users is the store's generally poor performance since its launch early this morning.
In theOvi team's blog, product marketing head Eric John wrote, "Shortly after launching the Ovi Store at 2 am ET, we began experiencing extraordinarily high spikes of traffic that resulted in some performance issues for users accessing store.ovi.com and store.ovi.mobi. We immediately began to address this issue by adding servers, which resulted in intermittent performance improvements. We apologize for any inconvenience this may have caused Ovi Store users."
Nokia's Ovi Store is the third of the major mobile content stores to open since Apple opened its iTunes app store in July 2008, following the Android Market and BlackBerry App World, and constitutes the fourth in a market which analysts expect only has room enough for five.