Now you can expect that 250% speed blast from Firefox 3.5 RC1

---
Download Mozilla Firefox 3.5 RC1 for Windows from Fileforum now.
---

Last week, we reported that the first public users of the first Mozilla Firefox 3.5 release candidate could expect two-and-one-half times the speed of Firefox 3.0.10 right after installation. But we also thought that the RC was coming within mere hours. As it turned out, the organization released a stand-in called "Beta 99" instead, with a warning that it may not have received the full array of testing a release candidate should require.
Since that time, Firefox 3.0 has had one update of its own. But yesterday, Mozilla made the final build of 3.5 RC1 publicly available (the numbering indicating that there may yet be an "RC2"). So after a fresh round of tests, we can report the following: RC1 will provide Windows XP SP3 users with 251.5% the speed of version 3.0.11, will give Vista SP2 users 244.7% the speed, and will give Windows 7 RC users 239.6% the speed of the current stable edition.
---
A word about our Windows Web browser test suite
---
Now, let me be clear (or rather, clearer than I was last time) as to what that means: This means that users will notice JavaScript processing and CSS rendering that users will see will be two-and-one-half times faster in the new Firefox Release Candidate than they would experience with the same content rendered in Firefox 3.0.11.
When you take standards adherence into account, Firefox 3.5 RC1 scores a 7.57 on our current physical performance index in Windows Vista SP2 -- meaning, we estimate RC1 to be 757% the browser that Internet Explorer 7 used to be on that platform (not IE8, which has more than double IE7's performance). This compared to a 3.80 score for Firefox 3.0.11 in Vista. In Windows 7, RC1 turned in an 8.81 on our index versus 4.37 for 3.0.11, although later daily private builds of 3.5 and 3.6 turned in slightly better performance scores -- typically, they decline a bit. And on XP SP3, RC1 turns in a 9.86 on our index versus 3.0.11's score of 4.65.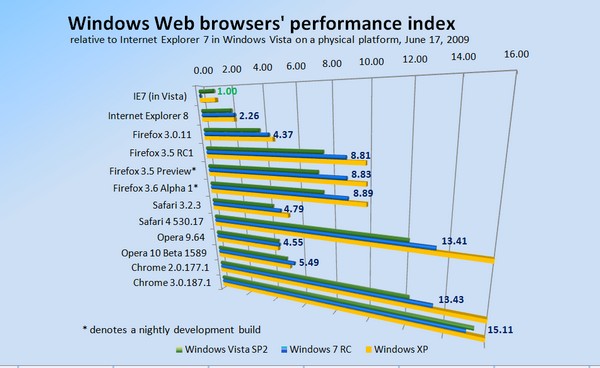 Yesterday was also the day Opera Software updated its beta of the Opera 10 browser, this time to include the new Opera Unite server-in-a-browser feature. How much of a performance hit did Opera 10 Beta build 1589 suffer on account of that new feature?
Almost none at all in Windows XP, with an updated performance score there of 5.22 versus 5.26 for the previous build. Windows 7 RC performance actually improved by a tick-and-a-half, with an updated score of 5.49 versus 5.33 for the prior build. But Vista performance actually suffered slightly, with a new score of 4.99 supplanting the older build's 5.09. And you read those numbers correctly: Opera 10 Beta currently runs faster in Windows 7 RC than in Windows XP SP3.
---
Download Opera 10 Beta for Windows Build 1589 from Fileforum now.
---
For those of you who've been wondering...How well did IE7 (the earlier edition of Microsoft's browser) score in XP SP3, versus Vista? We can't run IE7 (reliably) in Windows 7, so we haven't been able to use that as a benchmark for how much faster applications can run in Win7 than Vista. But in XP, IE7 turned in an index score of 1.09, and was typically 12% faster than in Vista. On average, browsers we've tested run 27% faster on XP SP3 than Vista SP1.
---
Download Mozilla Firefox 3.5 RC1 for Linux from Fileforum now.
---