Safari 4 for Windows slows down after Apple security update

---
Download Google Chrome 3.0.189.0 Beta for Windows from Fileforum now.
---
After Apple yesterday released a bug fix update to its Safari 4 Web browser for Mac OS, reportedly to address incompatibility issues between it and certain features in iPhoto '09, the company also issued a new file for the Windows version as well. Though some in the press have been told there wasn't really a difference, and although the new file still installs with the build number 530.17, it wasn't the same file that Apple issued last week.
And in Betanews tests this afternoon, it didn't behave like the same Safari 4 browser either, slowing down nearly 5% in Windows 7 RC and posting speed drops for the other platforms as well. This while Google issued yet another update to its Chrome 3 beta series, with phenomenal gains in its AJAX handling.
As a result, Safari 4 has now dropped out of the lead on all three Windows platforms, handing over the speed crown completely -- for the time being -- to Google. On our physical Windows XP Professional SP3 platform, the new Chrome 3 build 189.0 posted a record index score of 17.50, representing seventeen and a half times the performance of Microsoft Internet Explorer 7 on Windows Vista (the slowest browser in our tests, and not the most recent version). Safari's performance there is headed the other direction, down to 15.04 from this new build on XP.
---
An updated word about our Windows Web browser test suite
---
On Vista SP2, the gap between the two is somewhat tighter: 12.74 for Chrome 3 versus 12.08 for Safari 4. But on Windows 7, the gap is phenomenal: 15.86 for Chrome 3 versus 12.92 for Safari 4. Ever since Apple's Phil Schiller told the crowd at the recent WWDC in San Francisco that Safari 4 was the world's fastest browser...it hasn't been.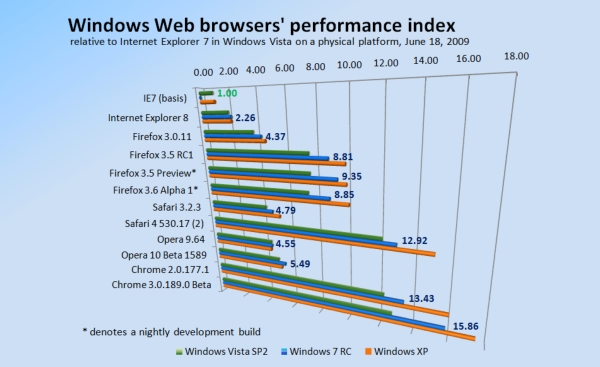 Rendering scores posted the sharpest decline for Safari -- this is usually a field where that browser shines, but for reasons Apple may not want to explain (or even acknowledge), the new release is slower in that department by about 9%. Page load times were slower as well, perhaps reflecting adjustments to the JavaScript engine to become more in tune with standards.
Meanwhile, the preview build that could become Firefox 3.5 RC2 is also gaining ground in Windows 7, catching up with Safari. The latest private preview build of 3.5 scored a 9.35 in Windows 7 RC versus the 8.81 score posted by the public 3.5 RC1 on the same platform. The preview build is almost 8% faster than the public build on Win7, though on the other two platforms, the preview is only slightly faster. On a parallel track, the alpha preview of Firefox 3.6 posted its first double-digit score this afternoon: a 10.06 on Windows XP SP3. The gap between it and Safari 4, although narrower, is still about 50% -- meaning if a future Firefox could find 50% more performance from someplace, it could stand shoulder-to-shoulder with Safari...even while those shoulders are a little lower.