The iPhone finally gets AT&T's Navigator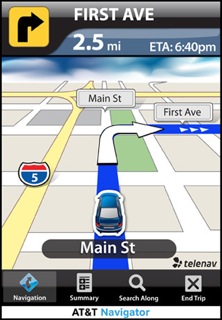 With the iPhone's 3.0 software update, Apple's iconic touchphone finally has access to AT&T Navigator, the carrier's branded GPS software solution provided by TeleNav, and the first turn-by-turn GPS app for the iPhone.
AT&T Navigator debuted at CTIA Wireless <!article id="1207085257">last year, and launched with the Motorola Z9 as well as a number of BlackBerry devices. The carrier severely lagged behind Verizon Wireless, which first began offering the service (labeled as VZ Navigator) nearly two years before, in 2006. In April of this year, <!external href="http://news.vzw.com/news/2009/04/pr2009-04-29a.html">VZ Navigator Global launched, which brings the turn-by-turn navigation service to more American countries, as well as half a dozen Western European nations.
The iPhone's software offers voice-guided turn-by-turn directions, full-color 3D maps, real time traffic updates, live gas prices and more than 10 million points of interest. As it is on all other platforms, <!article id="1234474877">such as Android, the software is free, but costs $9.99 per month for unlimited usage.