Ten-finger multitouch headed to mobile gadgets this year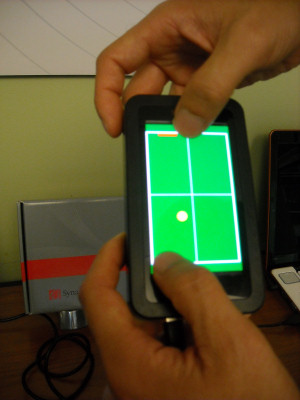 Synaptics, the creator of touchscreens already embellishing the iPhone and G1 Android phone, today rolled out new multitouch technology for mobile gizmos which rivals that of Microsoft-'s table-sized Surface.
The "Three-Finger Crumple" and "Two-Player Tennis Lite" are just two of the new offerings likely to show up on new mobile devices at year's end through Synaptics' introduction of the ClearPad 3000 Series touchscreen solution.
With the enhanced multitouch technology, Synaptics is innovating way beyond the 2000 Series touchscreen which already graces devices like T-Mobile USA's G1.
A prototype development team at Synaptics has already devised new gestures for the new 3000 Series such as Three-Finger Crumple and One-Finger Erase -- both designed for deleting data without resorting to a keypad -- along with Piano and several two-player games, said Andrew Hsu, Ph.D., technology strategist at Synaptics, in a pre-briefing for Betanews on a New York City press tour.
<!media id=3627 center>
For people interested in building their own multitouch-driven mobile applications, Synaptics plans a Microsoft Windows .NET-based development kit for the end of 2009, to coincide with the first 3000-driven handheld gaming machines, personal navigation devices (PNDs), and other gadgetry from Synaptics' OEM partners.
Meanwhile, one of Synaptics' partners, HTC, has already used Synaptics current ClearPad 2000 touchscreen technology on the G1, as well as on mobile phones such as the Android-driven Magic.
Hsu pointed out that Synaptics is a member of the Open Handheld Alliance (OHA), a Google-led group coalescing around Android. Synaptics has also done some talking with the competing Symbian Foundation, he acknowledged.
In fact, a total of 15 mobile smartphones already use ClearPad 2000 touchscreens, including the Samsung F480, Sharp SH-04A, LG Prada 2, and LG Arena, said Robyn Palmer, Synaptics' product marketing manager.
Synaptics' execs weren't able to say so, but ClearPad 2000 is also the touchscreen technology behind Apple's iPhone 3G. ClearPad 2000 broke new ground by bringing capacitive touch in place of resistive technology, Betanews was told. The resistive approach requires users to exert more pressure over longer lengths of time.
Also today, Synaptics is announcing ClearPad 1000, a less costly capacitive technology for single-gesture and "limited dual-gesture" applications for lower-end feature phones. ClearPad 1000 supports gestures that include Single Tap, Double Tap, Tap-&-Hold, Flick, and Press.
<!media id=3625 right>All three touchscreens are geared to low power consumption. But only the upcoming ClearPad 3000 offers 48 sensing channels, for ten-finger gesturing, faster performance, higher screen resolution, and larger display areas of up to eight inches diagonal, with support for narrower borders.
In a demo, Hsu showed how a consumer will be able to use Synaptics' new multitouch screen to play tunes like "Chop Sticks" on Piano, or to face off in a round of Two-Player Tennis Lite. Through multi-player games like that, mobile gizmos might grow less "isolating," he conjectured. For example, you might want to get into a quick tennis match with the person sitting next to you on an airplane.
Underneath the covers, components of the new mobile multi-touch technology include the screen-sized ClearPad Sensor Module; a small mixed-signal ASIC chip; a larger controller; and a transformer aimed at converting the digital multitouch signals for handheld computer use through a USB plug-in.
Although Synaptics has confined its touchscreens to mobile gadgets up to now, the start-up is also paying close attention to Microsoft's table-sized multitouch Surface system. "We're watching that space to see where it might go," Palmer observed.