Lenovo launches Windows 7 ThinkPads with multitouch and outdoor screens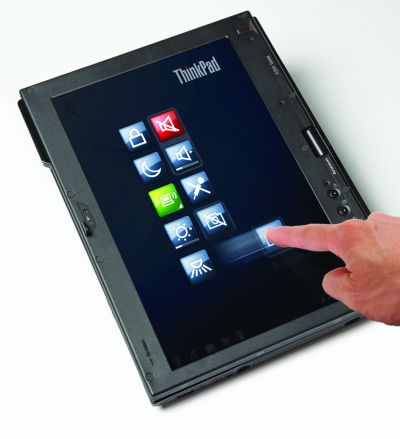 With the October 22 rollout of Microsoft's new operating system now little over a month away, Lenovo today introduced portable PCs with two unique screen options: a multitouch screen, enhanced by a new application called SimpleTap, plus a super bright screen visible even under the sunniest skies.
Lenovo is offering the new multiscreen technology with both its T400s laptop and X200 tablet PC. The super bright screens, however, will be available only with the X200 tablets, said Mika Majapura, worldwide segment manager for ThinkPad X-series, in a briefing for Betanews.
SimpleTap, a new multitouch application designed by Lenovo, will buttress new multitouch and gesturing capabilities in Windows 7 by supplying a "quick access control center." By double-tapping on SimpleTap's pre-built "tiles," you can quickly carry out functions such as zooming in or out or muting and unmuting the microphone. Double-tapping other tiles brings up sliders for adjusting volume and picture brightness.
"Another interesting thing is that you can customize SimpleTap by adding your own tiles," noted Aaron Stewart, a member of Lenovo's User Experience and Design Team. You might add a tile that brings up a YouTube video, for example.
You can also use touch to position the tiles anywhere you want to on the screen, and you can "fling" the tiles just for fun. Lenovo is including a realignment tile, too, for bringing the tiles back to their original positions.
"All of the vendors out there have been figuring out how they can differentiate their Windows 7 PCs," observed Leslie Fiering, research VP at Gartner. "<!article id="1242401253">The multitouch in Windows 7 is something that people will really be pointing to," the Gartner analyst told Betanews.
Beyond the specific innovations Lenovo has come up with for Microsoft's multitouch, Lenovo will stand out from the pack of other Windows 7 PC vendors with its "outdoor screen," maintained Rob Enderle, principal analyst at the Enderle Group.
"There hasn't been anything out there that works outdoors like this, and there won't be anything else that [does so] on October 22, either."
Up to now, super bright screens have been basically confined to military PCs," according to Enderle. "The screens [in the soldiers' PCs] have been big and heavy, and they've eaten up a lot of battery life," the analyst said.
But Majapura told Betanews that Lenovo's engineers have been able to use direct bonding technology -- in conjunction with the right materials -- to add an anti-glare layer to the screen without adding appreciably more weight.
<!media id=3840 center>
Lenovo's super bright screens produce reflectivity of only 1.2%, in comparison to 4% to 8% for standard screens, he estimated. The bright screens are engineered to be friendly to battery life in addition to reducing glare.
But for the moment, at least, Lenovo is not combining the new "super bright" and multitouch capabilities in the same screen, because doing so would bring too much bulk, Majapura said. Users of Lenovo tablets will need to choose between these new screen options.
Also in the new PCs, Lenovo has performed firmware tweaks for better touch performance, such as extending full touch capabilities all the way to the bezel and preventing interference from fingerprints on the screen. The multitouch screens on the tablets will support two-finger gestures, whereas the multitouch screens on the T400s will support four-finger gestures. Lenovo's previous touchscreens supported single-finger gestures only.
Yet both the two- and four-finger gestures might even work with software applications not built for Windows 7, Stewart said. Essentially, he suggested, the multitouch technology invokes function commands at the operating system level. "Most existing software applications today already support 'zoom' functions, for example," he illustrated.
Although Lenovo's latest ThinkPads aren't exactly inexpensive, the company also sells products in the less pricey netbook segment. But Lenovo's netbooks are aimed at different uses than its tablets and laptops, according to Majapura.
"There are people -- including students and teachers -- who practically can't live without their tablets," he contended. The tablet PCs are also used in vertical markets such as insurance and health care.
Majapura said he expects that, due to their enablement for four-finger gesturing, the multitouch T400s laptops will be used mostly by engineers, architects, and other designers initially, and possibly by gamers somewhere down the road.
Priced starting at $1,729 for a multitouch screen and $1,779 for an outdoor screen, the new X200 tablets are available immediately. The ThinkPad T400s with the multitouch screen will start shipping later this month, at pricing starting at about $1,999.
The SimpleTap application requires Windows 7, and Lenovo plans to release the application as downloadable software after Microsoft's launch of the new OS on October 22.